Published on November 11, 2016 by Philip Poole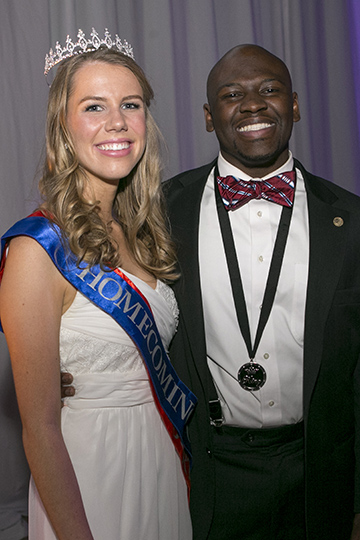 Samford University seniors Margaret Hehir and Micah Green-Holloway were crowned Homecoming Queen and King Nov. 11 during a special ball celebrating the university's 175th anniversary. They were chosen in a campus-wide vote by the student body.
They also were presented at other homecoming events throughout the weekend, including at halftime of the Samford vs. Mercer football game.
Hehir is a nursing major from Atlanta, Georgia, and Green-Holloway is a management major from Birmingham.
Other senior class representatives on the homecoming court were Elizabeth Poulos, a science and religion major from Fayetteville, North Carolina; Mary Catherine Sansom, a nursing major from Acworth, Georgia; Trip Adams, a physics/engineering major from Nashville, Tennessee; and Jhamall Wright, an exercise science major from Nashville.
Junior class court members, both from Birmingham, were Caroline Carlisle, a mathematics major, and Nelson Park, a public administration major.
Sophomore representatives were Gracie Groves, a nursing major from Charlotte, North Carolina, and Preston Little, a marketing and entrepreneurship major from Suwanee, Georgia.
Freshman class court members were Julianne Jorgenson, an English and classics major from Memphis, Tennessee; and Lane Linton Mitchell, a marketing major from Johns Creek, Georgia.