Published on November 15, 2016 by Philip Poole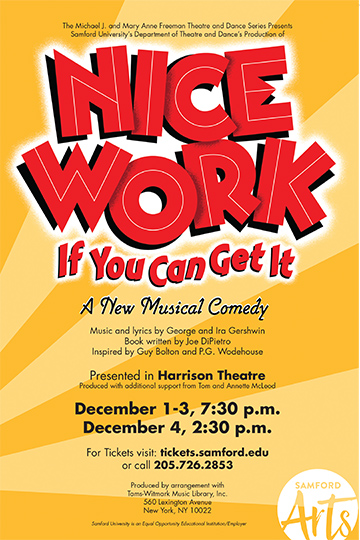 by Olivia Williams 
Samford University's Michael J. and Mary Anne Freeman Theatre and Dance Series will present Nice Work If You Can Get It Dec. 1–4. 
Performances are Dec. 1–3 at 7:30 p.m. and Dec. 4 at 2:30 p.m. in Harrison Theatre. Tickets are $10 for students and $20 for reserved seats. Tickets can be purchased online,  at the Samford Box Office in Wright Center or by calling 205-726-2853. 
The production is a tribute to the Golden Age of musical theatre, according to Mark Castle, who is directing the production. 
Nice Work If You Can Get It is set in the 1920s featuring classic songs from George and Ira Gershwin, including  "Fascinating Rhythm," "Let's Call the Whole Thing Off," "I've Got a Crush on You" and "Someone to Watch Over Me." 
"It is a piece of pure entertainment," said Castle. "The idea is to delight and amuse people. There is no particular seriousness in this version of the story. It's a charming, pleasant piece to make people laugh during this busy time of year." 
This production will showcase the work of talented students training to be professional musicians, actors, singers and technicians in the performing arts, Castle added. Jimmy Winter will be played by Evan Gunter, who is a senior vocal performance and music worship double major from Gadsden, Alabama. Bonny Baker, who is a senior musical theatre major from Mount Juliet, Tennessee, will play the role of Billie Bendix. 
Samford Arts patrons Michael J. and Mary Anne Freeman, and Tom and Annette McLeod helped to underwrite the production. The Freeman Series includes several events in the spring as well. The annual spring dance concert takes place in February, Arthur Miller's The Crucible"in March and the Musical Theatre: New Works Initiative in April.  
Olivia Williams is a journalism and mass communication major and a news and feature writer in the Division of Marketing and Communication.