Published on November 16, 2016 by Olivia Odom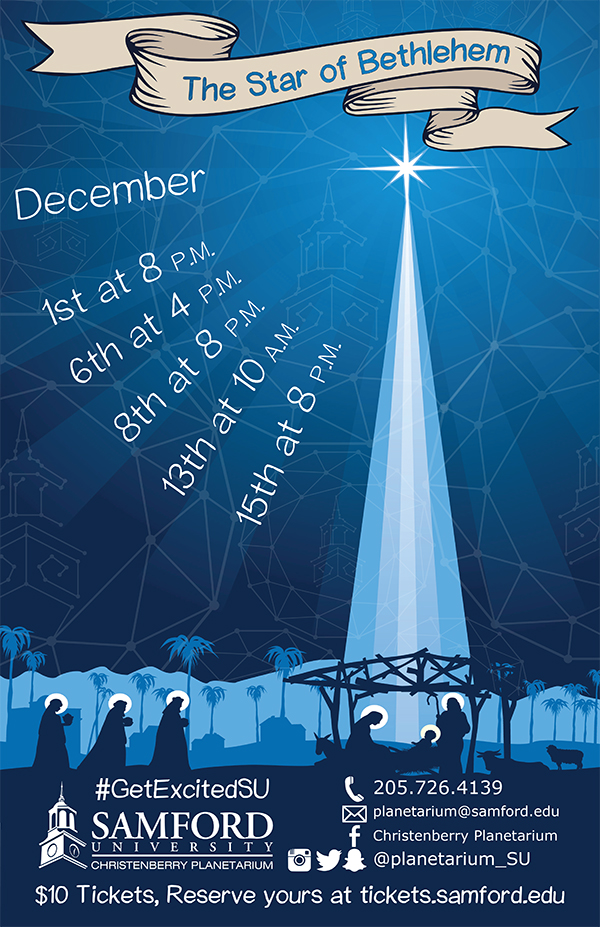 Samford University's Christenberry Planetarium will present its annual Star of Bethlehem shows Dec. 1–15. The five shows will explore the astronomical, biblical and historical evidence for various theories of the star.
In the midst of a busy and angry world, the planetarium hopes to offer a time for peaceful contemplation concerning the deeper meaning of life, and the opportunity to prepare mentally and spiritually for the Christmas season.
The public shows, to be offered at a variety of times and days to accommodate holiday schedules, require a $10 ticket available for purchase at tickets.samford.edu. A limited number of tickets might be available for purchase at the door, but planetarium seating is limited.
Star of Bethlehem Schedule
Dec. 1     8 p.m.
Dec. 6     4 p.m.
Dec. 8     8 p.m.
Dec. 13   10 p.m.
Dec. 15    8 p.m.
Follow Christenberry Planetarium at Samford University on Facebook and @Planetarium_SU on Twitter for updates, astronomy news, and future events and showings.
Olivia Odom is a journalism and mass communication major and a news and feature writer in the Division of Marketing and Communication.