Published on December 7, 2016 by Philip Poole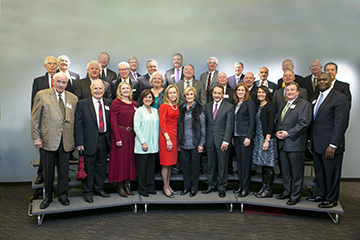 Four have been elected to Samford University's board of trustees beginning Dec. 1. The new members include two educators, a registered dietitian and a pastor.
Sue M. Belcher of Birmingham is a former teacher and part owner of Royal Automotive.
Sherri Foyt, a Birmingham homemaker and former public school teacher, is a 1990 Samford graduate and parent of two Samford graduates.
Randy Gunter, a 1994 Samford graduate, is pastor of Meadowbrook Baptist Church, Rainbow City, Alabama. He has two sons, one a recent graduate and one a current Samford student.
Rachel Corts Wachter of Spanish Fort, Alabama, is a registered dietitian and diabetes educator. A 1990 Samford graduate, she is the parent of two current students. Wachter's late father, Thomas E. Corts, was Samford president from 1983 to 2006.
Foyt, Gunter and Wachter will serve four-year terms through 2020. Belcher was elected to fill the unexpired term of her late husband, David, who died earlier this year. Her term expires in 2019.
The 44-member board serves as the governing body for the university. Trustees serve four-year terms.