Published on December 15, 2016 by Philip Poole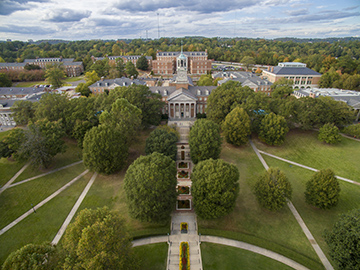 Samford University's national reputation as one of the nation's leading private Christian universities has been affirmed by its jump in Kiplinger's Personal Finance's list of the Top 300 Best College Values of 2017.
Samford was ranked #40 best value of the top private universities, up from #49 last year. Samford also was ranked #130 in the overall combined list of public and private institutions, up from #165 last year.
Samford is the highest ranked university in Alabama. Samford has been on the Kiplinger's list for multiple years.
Introduced in 1998, the rankings now combine public and private universities and private liberal arts colleges into a single, comprehensive list. Kiplinger's also ranked the top 100 best values in each category.
"We are pleased that Samford continues to be recognized nationally for academics, value and affordability," said Betsy Bugg Holloway, Samford's vice president for marketing and communication. "This national trend affirms our reputation as one of the nation's premier private universities. It especially is affirming when an organization such as Kiplinger's recognizes us as one of the best values in the U.S."
Kiplinger's quality measures, which are weighted more heavily than cost, include the admission rate, the percentage of students who return for sophomore year, the student-faculty ratio and the four-year graduation rate. Cost criteria include sticker price, financial aid and average debt at graduation. Unlike other rankings, which include subjective criteria in their assessments, Kiplinger's restricts its analysis to measurable standards of academic quality and affordability. Kiplinger's was the first ranking to focus on value, its core mission.
"With our rankings—which weigh affordability alongside academic quality—our goal is to help students and their parents understand what's really worth the price," said Janet Bodnar, editor of Kiplinger's Personal Finance magazine. "While some may have ranked higher than others, all 300 schools on the list are of extraordinary value, being chosen out of a universe of 1,200."