Published on December 14, 2016 by Sarah Waller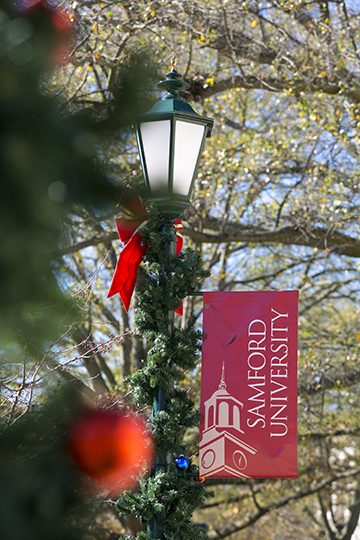 Though you may already be making plans for the year to come, you have the chance to impact the lives of Samford students today by including Samford University in your year-end giving.
You can make a gift online at samford.edu/giving or give through the mail. If your gift is received online or postmarked by Saturday, Dec. 31, it will be considered fully tax-deductible for the 2016 calendar year.
During this year's homecoming weekend, Samford President Andrew Westmoreland announced that the university is embarking on its largest fundraising initiative in its history: the "Forever Samford" campaign.
Forever Samford is a six-year, $300 million campaign, and it will focus on ensuring the foundation that will prepare and send dedicated, thoughtful and ethical people throughout a world that so desperately needs them.
In the year to come, Samford will work with its network of alumni to encourage class giving within reunion years and beyond. Your gifts now feed directly into the campaign and help ensure a forever Samford.
Along with supporting Samford through traditional means, you also have a unique opportunity to impact student life on campus by donating tangible needs university employees have identified through the Samford Christmas Wish List.
You can help better serve students academically, spiritually and holistically by purchasing items through Samford's Amazon Wish List. The items you purchase will be shipped to Samford, and in return, you will receive gift-in-kind donation credit for your purchase.
When you shop on Amazon, each item includes a description of the area or department on campus that will use it. With more than 100 items to choose from, you're sure to find a gift that fits within your budget.
Please make note that when you check out with Amazon, you need to include a gift receipt with your full name, email address, mailing address and, if an alumnus, your class year. If this is not included, Samford will not know who sent the gift and will be unable to send you a tax receipt.
For questions, can contact Karen Templeton, director of annual giving, at ktemplet@samford.edu.
Sarah Waller is marketing and communication coordinator for the Office of Alumni Programs and Annual Giving.