Published on December 7, 2016 by Philip Poole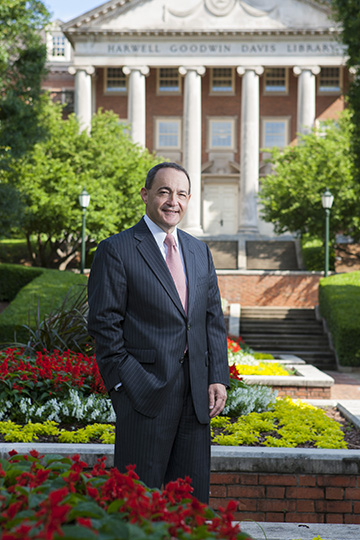 Samford University President Andrew Westmoreland was honored Monday (Dec. 5) as the 2016 recipient of the James T. Rogers Distinguished Leadership Award given by the Southern Association of Colleges and Schools Commission on Colleges (SACSCOC), the regional accrediting body for more than 800 colleges and universities in 11 southern states. 
The James T. Rogers Leadership Award is the highest public recognition given by the commission and is reserved for "extraordinarily distinctive and effective leadership."  Rogers served 19 years as the executive director for SACSCOC. 
"Dr. Westmoreland's contributions to quality in higher education goes far beyond the campus of Samford University," said Belle S. Wheelan, SACSCOC president. "His leadership to the commission has ensured stronger quality institutions throughout the Southern region and was recognized by his peers giving him this award. His contributions will be felt by many for years to come." 
Westmoreland, who has served as Samford president since 2006, served as chair of the SACSCOC board of trustees in 2014 and 2015. Earlier, he was an executive council member and chair of the Alabama state delegation. He has been active with SACSCOC for more than seven years, serving as an accreditation consultant and as a member of five site visit teams. He also served on many site teams for the Higher Learning Commission, another of the seven regional accreditation agencies, before moving to Alabama. 
"Most specifically, he strengthened the fiscal oversight of the board through chairmanship of a SACSCOC audit and finance committee of the executive committee," Wheelan said. 
SACSCOC is the regional body for the accreditation of degree-granting higher education institutions in the Southern states. It serves as the common denominator of shared values and practices among diverse institutions in Alabama, Florida, Georgia, Kentucky, Louisiana, Mississippi, North Carolina, South Carolina, Tennessee, Texas and Virginia, and Latin America and other international sites approved by the commission that award associate, baccalaureate, master's or doctoral degrees. 
Samford has been accredited by SACSCOC since 1920, and accreditation most recently was reaffirmed in 2007. Samford's next review is scheduled for 2017.