Published on January 6, 2017 by Philip Poole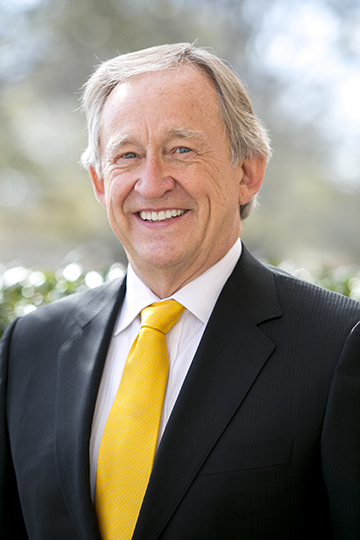 Gary D. Fenton of Birmingham has been named senior advancement officer at Samford University, effective Jan. 3. He will work with a select group of major donors and organizations to help meet the goals of the university's recently launched $300 million Forever Samford campaign.
Fenton retired in August 2016 after 25 years as senior pastor at Birmingham's Dawson Memorial Baptist Church. He had been serving on Samford's board of trustees prior to his appointment to the development staff. Earlier, he served as an adjunct instructor and field supervisor for Samford's Beeson Divinity School.
"I believe in the mission of Samford University, as it is making a significant contribution to the community, the state and the entire world for the glory of God and the good of humanity," Fenton said. "As the parent of a graduate, the pastor of many students and employees, and as a trustee, I have observed Samford University living out its core values. I am honored and excited to have the opportunity to play a small role in our magnificent future."
Fenton is active in the community as a member of the Rotary Club of Birmingham, a member of the class of 2002 of Leadership Birmingham and the 2008 class of Leadership Alabama, the Leadership Birmingham Advisory Board, the Addiction Coalition Advisory Board, and the Salvation Army Advisory Board. He is a former member of the board of directors for The Alabama Baptist news journal. He is a popular speaker as a frequent presenter at leadership conferences and as a guest lecturer at events around the world. He also is author of four books.
"Dr. Fenton has been a loyal supporter of Samford University for more than 20 years," said W. Randy Pittman, Samford's vice president for advancement. "He has been a dedicated and respected leader in his church, in the Southern Baptist denomination, and in a variety of civic and charitable endeavors.
"I am very pleased that, at the beginning of our most ambitious fundraising campaign ever, Gary has chosen to lend his considerable relationship and communication skills to Samford. His vision of equipping the next generation of leaders through quality Christian education is a perfect match with Samford's vision and mission, and I am confident that he will have a major positive impact here."
Prior to Birmingham, Fenton was pastor of churches in Texas, Oklahoma and Missouri. A native of Missouri, he earned a bachelor's degree from Southern Nazarene University, Bethany, Oklahoma; a Master of Divinity degree from Southwestern Baptist Theological Seminary, Fort Worth, Texas; and the Doctor of Ministry from Midwestern Baptist Theological Seminary, Kansas City, Missouri.
Fenton's wife, Alta Faye, is a former president of the Samford Legacy League auxiliary organization. They have three adult daughters.