Published on January 30, 2017 by Sean Flynt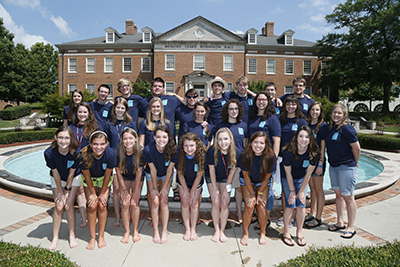 Forbes magazine announced in late December that Samford University's Great Ideas Summer Institute is among 16 "Notable Summer Short Courses for High School Students" in the United States.
Created by the University Fellows honors program in 2011, the institute is a weeklong opportunity for intellectually ambitious high school students to enjoy the energy of a college classroom, engage ideas that form the essence of the Western intellectual tradition and develop friendships with exceptional high school students from around the country. It typically focuses on the ancient Greek and Roman ideas that inspired the creation of the United States of America and sustained it through the trials of revolution, civil war and the struggles for civil rights.
Full-time Samford faculty lead the discussion-oriented classes. The classes are complemented by speakers, films and other activities related to Birmingham's unique history and culture. Students live and study much as University Fellows do, and the Fellows themselves serve as assistants in the program.
Past participants have praised the program's expert faculty, intellectual depth and high expectations for student participation. They also have noted that the program's small size allows meaningful engagement with faculty. "We value inviting a small group of students who benefit from direct interaction with faculty and current University Fellows," said University Fellows director Bryan Johnson.
Registration for the Great Ideas Summer Institute 2017 (June 25–30) is open now.