Published on January 5, 2017 by Polly Manuel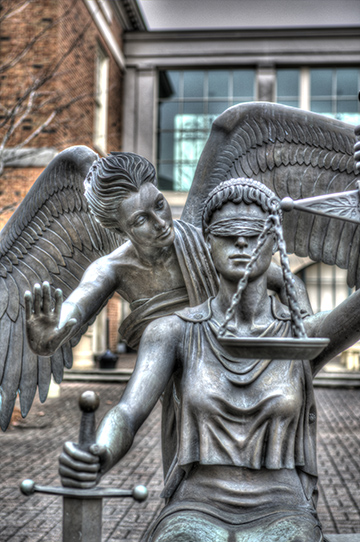 More than 150 students from six Alabama high schools will test their knowledge of the U.S. Constitution and Bill of Rights during the "We the People: The Citizen and the Constitution" state competition Jan. 13 at Samford University's Cumberland School of Law in Birmingham. The competition is from 10 a.m. to 12 p.m. 
Students will demonstrate their knowledge of the Constitution before a simulated congressional hearing committee consisting of constitutional scholars, lawyers, government leaders and civic educators who will judge the classes' performances. 
Each class is divided into six groups, corresponding with the units in the We the People: The Citizen and the Constitution textbook. Each group makes a four-minute presentation, followed by six minutes of questioning by judges who probe students on their depth of understanding. 
Competing Alabama schools include Vestavia Hills High School, Vestavia Hills, teachers: Amy Maddox and Jane Schaefer; Virgil I. Grissom High School, Huntsville, teacher: Suzanne Bailey; Spain Park High School, Hoover, teacher: Phillip Pate; Albertville High School, Albertville, teacher: Kortney Johnson; Eufaula High School, Eufaula, teacher: James Kennedy; and Pelham High School, Pelham, teachers: Karen Varner and Sabrina Tutchtone. 
The winner at the state competition advances to the national finals, set to take place April 22–24 in Washington, D.C.
"We the People: The Citizen and the Constitution is a premier academic competition for high school students," said Alan Stevens, the program's state coordinator and the executive director of the Alabama Center for Law and Civic Education. "These students have logged in early morning, late night, and weekend study sessions to reach the state finals. The judges are always impressed with the students' thorough knowledge of the Constitution and their ability to apply its principles to contemporary issues." 
Implemented nationwide in upper elementary, middle and high schools, the program has reached more than 32 million students and 98,000 teachers since its inception in 1987. The program's primary goal is to promote civic competence and responsibility among the nation's elementary and secondary students by helping them understand the history and principles of the U.S. Constitution and Bill of Rights. Nationally, the program is directed by the Center for Civic Education. In Alabama, the program is directed by the ACLCE, a nonprofit civic organization dedicated to educating young citizens in the areas of civil knowledge, skills and responsibilities. 
The nonpartisan ACLCE, established in 1990 and housed at Cumberland School of Law, is the only entity of its kind in Alabama that provides civic and law-related education. The ACLCE is a nationally recognized resource and training center for teachers, school resource officers and community leaders. In addition to We the People, the ACLCE administers other programs including Teen Court, Cumberland Street Law and the James Madison Legacy Project.