Published on February 27, 2017 by Sean Flynt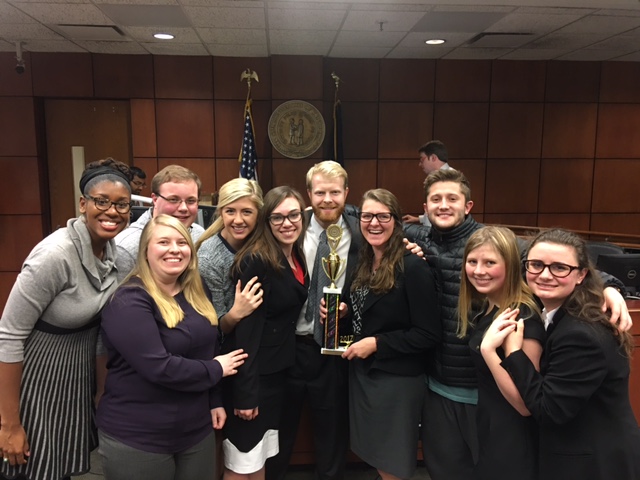 Samford University's mock trial team earned regional honors at the American Mock Trial Association (AMTA) Regionals competition at Bellarmine University in Louisville, Kentucky, Feb. 24–26, and qualified for the national Opening Round Championship Series in March. This is the first time Samford has qualified for the opening rounds since 2010 and only the second time since the team's inception.
Samford students Mitch Laing and Kaitlin Mullen both received Outstanding Attorney awards in Louisville. Mullen was the only participant honored with two Outstanding Attorney awards. Jessica Brewer was named an Outstanding Witness.
To qualify for the national opening rounds, Samford's team competed against teams from Lee University, Vanderbilt University and the University of Alabama at Birmingham. The students presented both the plaintiff and defense sides of an age discrimination case.
"The experience really bonded the team and taught us a lot about what our careers may look like," said team cocaptain Lexi Gilbert.
Samford's Mock Trial Team
Levi Blalock of Odenville, Alabama
Will Brandt of Jonesboro, Arkansas
Jessica Brewer of Arlington, Tennessee
Madison Cumby
Lexi Gilbert of Brentwood, Tennessee
Alyssa Kuhnel of Lynn Haven, Florida
Mitch Laing
Anna McLemore of Somerville, Alabama
Kaitlin Mullen of Norcross, Georgia
Carolyn Smith of Bessemer, Alabama
Political science professor Marissa Grayson serves as the team's faculty adviser. Attorney and Cumberland School of Law '11 alumnus Brandon Prince coaches the team.