Published on March 29, 2017 by Sarah Waller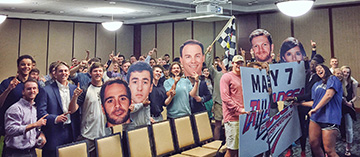 by Olivia Williams 
Samford University students recently had an opportunity to network with professionals from Talladega Superspeedway and take part in a special announcement.   
Students from sport administration classes in the School of Health Professions and marketing and professional sales concentation classes in Brock School of Business were featured on Talladega Superspeedway and NASCAR Snapchat stories to announce the 40-day countdown to the GEICO 500 scheduled for May. The spring and fall Talladega races remain two of the biggest sellouts on the Monster Energy NASCAR Cup Series circuit, bringing in an economic impact of $380 million to the state of Alabama. 
Following the announcement, students heard from three Talladega Superspeedway staff: Michaela Robbins, business development account executive; Kylie Easterling, digital and social media manager; and Matt Hartman, ticket sales account executive. 
"We were excited about an opportunity to bring in young professionals from an internationally recognized organization so that our students could see the impact being made by business people their age," said Clif Eason, assistant professor of marketing. "Events like these allow students to see in the real world the concepts that they learn in the classroom; at the same time, the people of the Talladega Superspeedway and NASCAR got to experience the quality of our students." 
Topics of conversation focused around NASCAR's various primary and associate sponsorships, Talladega Superspeedway's consumer and corporate relationships, industry action plan alignment, key marketing objectives and advice for soon-to-be graduates preparing to enter the workforce. 
"Hearing from the representatives from Talladega Superspeedway was a great opportunity and very informative," said junior marketing major Grant Gardner. "It is encouraging to hear personal stories from young professionals in the sports industry. The connections and experiences that Samford provides to its students are invaluable."    
Senior marketing major Laura Markham agreed. "I appreciate when organizations and individuals take the time to speak to our classes, and offer us advice about leadership and decisions about our future, and give us insight into their own jobs. There is always something to learn from them." 
Nathan Kirkpatrick, assistant professor of sport administration and one of the event coordinators, is hopeful about the future of events such as this in the lives of Samford students. 
"It is always a great gift and blessing from the Lord when we can collaborate with the school of business and bring in highly skilled sport industry professionals to speak to our students about potential career paths in sport business," Kirkpatrick said. 
Olivia Williams is a journalism and mass communication major and a news and feature writer in the Division of Marketing and Communication.