Published on April 5, 2017 by Ashley Smith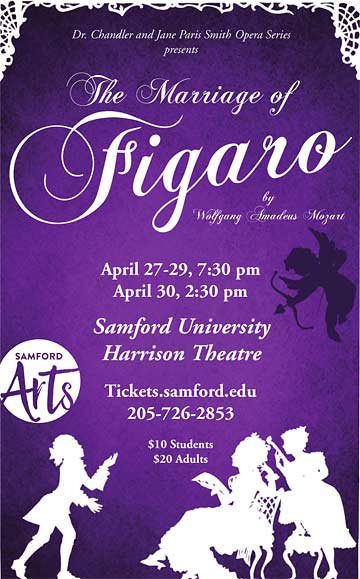 Samford University's School of the Arts and Dr. Chandler and Jane Paris Smith Opera Series presents Wolfgang Amadeus Mozart's The Marriage of Figaro, April 27–30. 
Show times are April 27–29 at 7:30 p.m. and April 30 at 2:30 p.m. Performances will be in Harrison Theatre. 
According to Kristin Kenning, assistant professor of voice and director of Samford Opera, "It is our joy to present Mozart's shining jewel of the operatic repertoire, The Marriage of Figaro. Written in 1786 with an Italian libretto by Lorenzo da Ponte, the opera has remained one of the most performed, most beloved operas of all time." 
The Marriage of Figaro is a delightful comedy with twists and turns about love, betrayal and forgiveness, Kenning said. The opera is based on a revolutionary play written by French playwright Beaumarchais in 1784. 
"If you've never seen an opera, this is the perfect introduction to the art form. Sung in English, the music is stunningly beautiful, and the plot is hilarious and engaging," said Kenning.    
Each year, Samford Opera students have the opportunity to perform a main-stage opera production and a scenes program. Additionally, opera students perform in the Birmingham community through workshops at schools and retirement communities, sharing their talents and honing their skills. 
Kenning said, "The joint production between the Division of Music and the Department of Theatre and Dance exemplifies the type of artistic collaboration that makes Samford a vibrant place for arts education and artistic collaboration." 
Showcasing the students of the School of the Arts, the production includes a charming set, elaborate costumes, a full orchestra and outstanding performers, she added. 
Tickets are available online; at the Wright Center Box Office, Monday–Friday, 10:30 a.m.–3 p.m.; or by phone at 205-726-2853.   
Ashley Smith is marketing and communication coordinator for Samford Arts.