Published on April 12, 2017 by Ashley Smith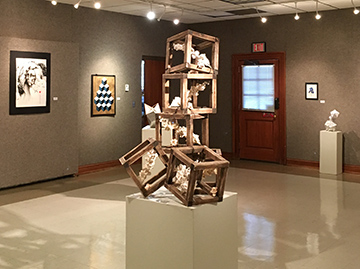 During the month of April, the Samford Art Gallery is showcasing the artwork of students who were selected for the 15th Annual Juried Art Show.  
Samford graduate Sara Cannon, who recently exhibited her own work at the gallery, judged the submissions that are on display.
Several hundred pieces were submitted by this year's art and design students, and from that body of work, Cannon chose 39 pieces to be part of the exhibition. The selected works were then judged, and three winners were chosen in each category: Interactive Design, Two-Dimensional Design and Three-Dimensional Design. From these winners, Cannon selected three Best of Show awards.   
Winners will be announced along with academic and scholastic awards at the closing reception April 27 at 5 p.m. The reception will be 4–6 p.m. and is open to the public. The Samford Annual Student Juried Art and Design Show is sponsored again this year by Michael J. and Mary Anne Freeman. 
According to gallery director Robin Snyder, "The annual student show not only gives the students an opportunity to showcase the art they have created in their classes, but also gives them the experience of applying to a juried show. This year's show highlights the talent of freshman, sophomores, juniors and seniors, and illustrates the high quality of work being produced at Samford." 
The gallery is located in Swearingen Hall and is open 9 a.m.–4 p.m., Monday–Friday. 
Ashley Smith is marketing and communication coordinator for Samford Arts.