Published on April 11, 2017 by Ashley Smith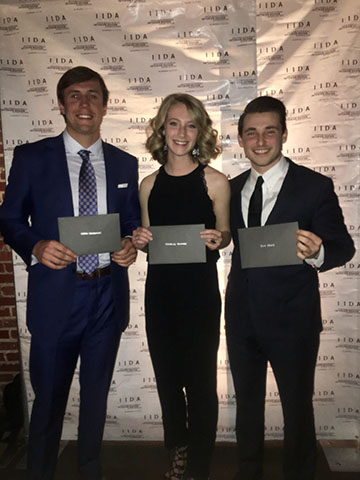 Three Samford University interior architecture students were recognized for their accomplishments at the IDIE awards April 7. This biannual design awards ceremony was hosted by the Alabama chapter of the International Interior Design Association. 
There were three categories for which students could enter their studio projects, and Samford students swept awards in all three. Drew Pederson, a senior from Moorestown, New Jersey, took home the award for Corporate Office; Rich Fridy, a senior from New Port Richey, Florida, received the award for Restaurant/Hospitality; and Madelon Roser, a senior from Boise, Idaho, accepted the award for Student Choice. 
"I am proud of the outstanding achievements and character of these and all of our interior architecture students," said Jeannie Krumdieck, professor and chair of Samford's Department of Interior Architecture. "These awards speak to the quality of our curriculum, faculty and staff, and to the university as a whole. Samford interior architecture receives unprecedented support from IIDA, and the local professional design and architectural community.  Without their support, we would not be where we are today." 
Students from Samford, Auburn University, the University of Alabama and the University of North Alabama were eligible to participate for student awards. 
Olivia Williams is a journalism and mass communication major and a news and feature writer in the Division of Marketing and Communication.