Published on May 12, 2017 by William Nunnelley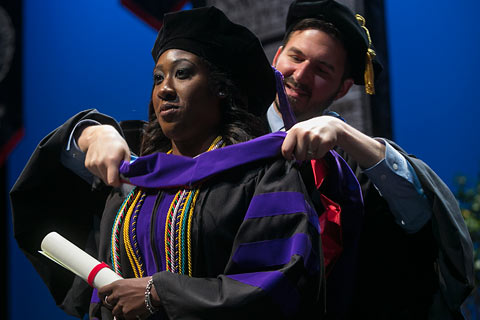 Federal Judge William H. Pryor Jr. of the U. S. Court of Appeals 11th Circuit told graduates of Samford University's Cumberland School of Law that commencement for a law school is more than a celebration of the success of its students and faculty.
Law school commencement celebrates "the American commitment to the rule of law, which is the bulwark of our freedom," said Judge Pryor. He quoted Thomas Paine as saying that "in absolute governments the King is law," but "in America the law is king." Cumberland School of Law has celebrated that fact since 1847, Pryor added.
Pryor, who also serves as acting chair of the U.S. Sentencing Commission, spoke May 12 to a law graduation audience of about 1,500 in Samford's Wright Center. The class comprised 130 candidates for the Juris Doctor degree and three candidates for the Master of Comparative Law.
Cumberland School of Law also presented its annual Daniel Austin Brewer Professionalism Award to graduates Kevin W. Bufford and Jonathan A. Griffith.
Pryor urged the graduates to do three things as they begin their work as lawyers. "First, maintain and defend the nobility of the legal profession. Second, serve the public. Third, respect the limits of the law."
On the first point, Pryor suggested that lawyers must uphold the tradition of the legal profession "by tempering the passions of your clients and our society with sound advice about the demands of the law." He added, "Your task will not always be popular, but it will be noble."
Lawyers "must defend the innocent and prosecute the guilty, and champion the rights of all, poor and rich alike," he said.
"Be excellent in your work, which will require diligence, skill and careful attention," he urged. "It is often said that we have too many lawyers, but we never have enough excellent lawyers."
Regarding service, Pryor suggested that the young lawyers should consider running for elected office or seeking an appointed office, that they consider a career as a prosecutor or public defender, and perform pro bono work.
"Finally," he said, "respect the limits of the law." He described the law as "a largely historical project that is as old as civilization itself," adding that "our Anglo-American common law developed over centuries to resolve problems that are fundamental to human nature."
Appreciating the historical nature of the law "helps you understand how much we should respect its most settled rules," Pryor said. "Disturbing or changing those rules has costs, and they more often than not outweigh the perceived benefits of the moment."
Respecting the limits of the law "also means respecting the limits of the judiciary and litigation," said Pryor. "Many of you want to become trial lawyers. Trial beats resolving disputes with violence, but trials are unpredictable and expensive. Lawyers often do their best work when they help clients avoid disputes." He noted, "Law often involves the art of negotiation."
Pryor closed by congratulating the young lawyers, and adding, "Today marks the beginning of a lifetime of professional opportunity and achievement. Seize it."
Additional commencement coverage: