Published on June 6, 2017 by Sean Flynt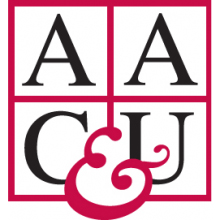 Howard College of Arts and Sciences Dean Tim Hall led a Samford University team selected to attend the American Association of Colleges and Universities (AAC&U) Institute on General Education and Assessment at Loyola University May 31–June 3. The team also included David Bains (religion), Don Bradley (sociology), Joseph Cory (visual arts), Eric Fournier (Office of Assessment) and D.J. Gililland (Kinesiology).
AAC&U's team-based institutes offer campuses a time and place for sustained collaborative work on a project of importance to their campuses, along with a curriculum focused on important trends, research and best practices delivered by a resident faculty of educational experts and consultants. At the Loyola institute, the Samford team explored intentional, well-defined and meaningfully assessed models of general education.
"The individuals and teams selected to participate in AAC&U's 2017 summer institutes demonstrate their commitment to developing and exchanging best practices in support of student success, which is more important than ever," said AAC&U President Lynn Pasquerella. "We look forward to ongoing collaboration in championing our shared objectives around advancing liberal education and inclusive excellence in service to the public good."