Published on September 12, 2017 by Philip Poole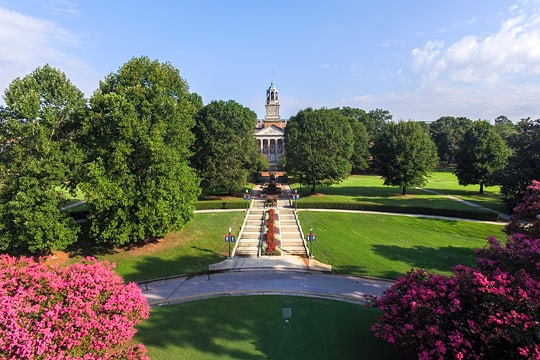 Samford University's national reputation as one of the top-ranked Christian universities in the country is affirmed in the latest U.S. News & World Report college rankings. Samford is ranked 3rd in the South among regional universities in the 2018 rankings released Sept. 12.  Samford is the highest ranked university in Alabama in any classification and continues a three-decade tradition of being ranked in the top tier of its peer group.
Samford also was ranked 5th among regional universities in the South as one of the "Most Innovative Schools." Only 66 colleges and universities in the country were included in the Most Innovative Schools ranking, and Samford is the only Alabama institution included in this special list. The innovativeness of universities was measured through surveys of university presidents, provosts and admission administrators to assess "cutting-edge changes" with respect to curriculum, faculty, student services, campus life, technology and facilities.
Additionally, Samford was ranked 1st among regional universities in the South for Best Colleges for Veterans. In 2015, the university received a $1 million grant from the U.S. Department of Health and Human Services' Health Resources and Services Administration to fund a program to help veterans pursue degrees in nursing.
Samford also was ranked 22nd in the South as a Best Value institution. This ranking takes into account a school's academic quality and the 2016-17 net cost of attendance for a student who received the average level of need-based financial aid.
The US News & World Report annual ranking is based on the Carnegie Foundation for the Advancement of Teaching classifications, and assesses such criteria as academic reputation, graduation and retention rates, class size, and faculty/student ratios. Peer assessments from presidents, provosts and chief admission officers of institutions also are used to determine the rankings. Institutions in Samford's classification are ranked in four regions. The 659 institutions classified as regional universities represent the largest classification grouping in the U.S. News & World Report rankings.
The latest U.S. News & World Report rankings continue a trend of national recognitions for Samford's diverse array of academic programs. Samford is recognized as the top-ranked university in the state of Alabama in other recent rankings published by Forbes Inc., The Economist and The Wall Street Journal/Times Higher Education.
Samford President Andrew Westmoreland noted that these impressive rankings come at a time of "strong growth" for Samford.  Samford recently announced the ninth consecutive year of record enrollment with 5,509 undergraduate and graduate/professional students enrolled in fall 2017.
"National rankings are just one important measure of our success," Westmoreland added, "but they continue to affirm Samford's growing national reputation as one of the best Christian universities in the country."