Published on November 9, 2017 by Philip Poole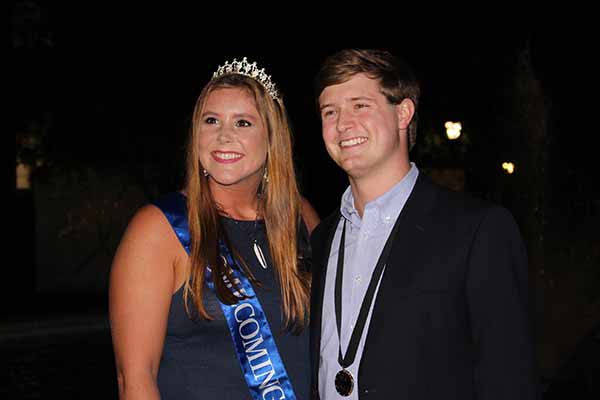 Seniors Anna Rogers and Nelson Park were named Samford University's 2017 Homecoming queen and king at a special pep rally Nov. 9. The two were chosen in a university-wide vote to reign over homecoming weekend.
Rogers is the daughter of Janice and Travis Rogers. She is a communication studies major from Gainesville, Georgia. Park, who is Student Government Association president, is a public administration major from Birmingham, Alabama. He is the son of Nathan and Dee Park.
Other senior class representatives on the homecoming court included:
Kristin Thurwachter, daughter of Cathy and Rick Thurwachter. She is an elementary education major from St. Louis, Missouri.
Caroline Carlisle, daughter of Todd and Karen Carlisle. She is a mathematics major from Birmingham, Alabama.
Tucker Freeland, son of Scott and Virginia Freeland. He is an international relations major from Nashville, Tennessee.
Cass Waddell, son of Michael and Stephanie Waddell. He is a double major in engineering physics and mathematics from Sharpsburg, Georgia.
Junior class representatives were Meg Alford and John Collier. Alford, the daughter of Monica Gregory and Trent Alford, is a biology major from Dyersburg, Tennessee. Collier is the son of John and Julie Collier. He is a public administration major from Birmingham.
Sophomore class court members were Chloe Champion and Harrison Hansard. Champion is the daughter of Amy Wilson and Tom Champion. She is an English major from Montgomery. Hansard, the son of Kim Hansard. He is a nursing major from Lilburn, Georgia.
Freshmen class representatives were Kailee Marasco and Drew Fillinger. Marasco is the daughter of Chris and Julie Marasco and an exercise science major from Murfreesboro, Tennessee. Fillinger is the son of Eric and Julie Fillinger. He is a musical theatre major from Cullman, Alabama.
Additional Homecoming coverage:
Homecoming Banquet/Alumni Honors