Published on December 6, 2017 by Philip Poole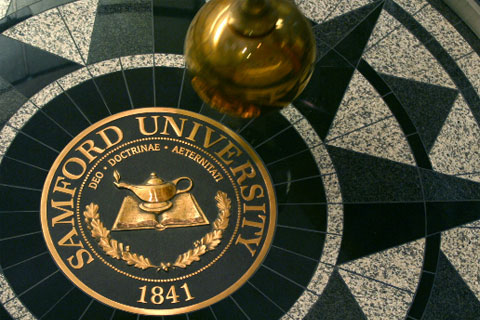 Four have been elected to Samford University's board of trustees beginning Dec. 1. The new members include three attorneys and a Birmingham-area pastor.
Andy Birchfield, attorney with Beasley Allen Law in Montgomery, Alabama, was elected to serve a four- year term, 2017-22. He is a 1988 Samford graduate.
Albert L. Shumaker, an attorney in Centre, Alabama, is filling an unexpired term, 2017-18. Shumaker previously served 12 years as a trustee and is a 1963 graduate.
Sharon Donaldson Stuart, a partner with Christian & Small law firm in Birmingham, is filling an unexpired term, 2017-20. Stuart received an undergraduate degree from Samford in 1987 and earned her law degree in 1990. She is a part of a multi-generation Samford family.
Danny Wood, senior pastor of Shades Mountain Baptist Church in suburban Vestavia Hills, Alabama, also was elected to serve a four-year term, 2017-22. Wood earned a Doctor of Ministry degree in 1999 from Samford's Beeson Divinity School.
The 43-member board serves as the governing body for the university. Trustees serve four-year terms.
Reelected to additional four-year terms were Karon O. Bowdre, federal judge, Birmingham; Victor M. Brown, an executive with the Birmingham Business Alliance; Robert Holmes Jr. of Birmingham, retired executive with Alabama Power; Don Kilgore, Jasper, Alabama business; Sherri P. McKean, board chair, Children First Foundation, Montgomery, Alabama; Garry Ray Pearman, Huntsville, Alabama businessman; and Roderic G. Steakley, attorney, Brownsboro, Alabama.