Published on January 31, 2018 by Morgan Black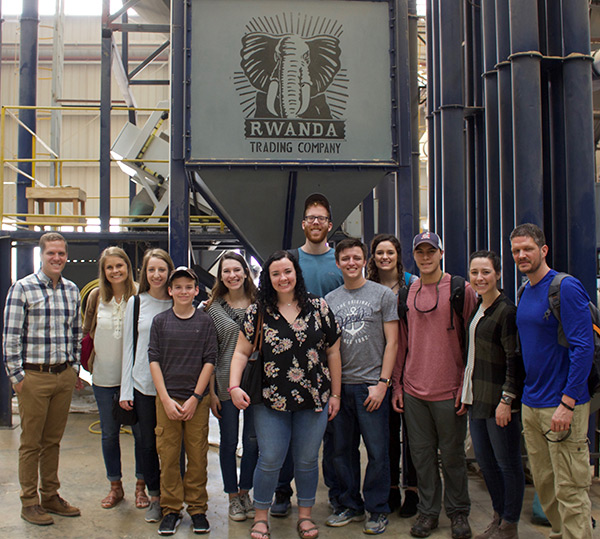 The social entrepreneurship minor and concentration in Samford University's Brock School of Business offers classes in the core business disciplines while matching a student's goal of pursuing opportunities in the business and nonprofit world dedicated to helping solving society's social problems. The program is designed to teach a new generation of business leaders the skills necessary to address today's most difficult social problems in their community. 
Through this program, students are given the opportunity to experience real world business practices in countries outside of the U.S. every other year. During the 2018 Jan term, eight students traveled with program coordinator and professor of economics Jeremy Thornton and Allison Nanni from Samford's Mann Center for Ethics and Leadership to explore the business culture of Rwanda, Africa. The purpose of the trip was to learn about the economic growth and business development strategies in Rwanda and how they differ from our own. 
"Samford is unique because of the holistic development that is shaping our students," Thornton said. "Our goal for the Rwanda trip was to expose our social entrepreneurship students to as many different organizations and ideas as possible."  
While in Rwanda, the group visited three to four organizations per day ranging from large non-governmental organizations (NGO) to small, local nonprofits. A few of those visits included three companies that employ Samford alumni. 
Chase and Rachel Carroll, both Samford business graduates, have been living and working in Rwanda for several years. Chase received his accounting degree in 2013 and works for Karisimbi Partners who seek out U.S. businesses interested in investing in Rwandan companies to help develop the local economy. Rachel, who minored in social entrepreneurship and graduated in 2014, works for a small nonprofit whose mission is to teach women to bake nutritious goods. Another 2017 alumna, Emily Praktish, writes grants for the Anglican Diocese of North Rwanda to help ensure funding for preschool education and nutrition programs in the area.   
When talking with a few of the student travelers, they shared their favorite moments of this life-changing experience and how they plan to use their individual majors and social entrepreneurship concentration after they graduate. 
Sam Fink, a senior religion major from Fayetteville, Georgia, said, "I am passionate about serving people. My religion major has helped equip me to meet the spiritual needs of others and the social entrepreneurship minor has helped me gain a better understanding of how to go about meeting people's physical needs in a more effective and sustainable way than I would have considered before I took classes like this one. The trip really challenged me to rethink the way I thought about charity and foreign aid. It gave me a great framework of critical thinking through which I can more effectively understand these problems and begin to address them. After graduation, I am looking to combine my passions of aviation and ministry. Regardless of where I end up, both my studies in religion and social entrepreneurship have equipped me to better understand the problems that people face around the world and help address them in a more effective and meaningful way, than I otherwise would have been able to accomplish." 
Sydney Murphy, a senior marketing major from Marietta, Georgia, added, "My favorite parts of the trip were the unplanned moments in between our days. I loved exploring through the city because it was like my eyes were seeing life for the first time. It changed me. How humbling it is to be so immersed in an entirely different way of life when you cannot even say the words asking for a piece of bread…these were all the little moments I loved most because this is reality when you have a passion to go abroad and encounter significant cultural change. A life pursuing social entrepreneurship is not just the project you are working on; however, it is the interrupted time, the in-between time, and the unplanned time that is our real opportunity to create change. After studying scripture with Dr. Thornton on our trip, I finally understand my position as a believer and as an educated woman, how much power I have to influence lives even as complicated as this is. Unfortunately, we may never truly see the ultimate result of our works, but it is not for us to know. We serve a God who is above it all, and that is good enough for me. I am graduating in just a few months and my goal is to move abroad and pursue business as missions. I have applied to various places upon returning home, but we'll see in a few months where I may end up and what I may be doing! Who knows, I may even be back in Africa!"