Published on February 28, 2018 by Ashley Smith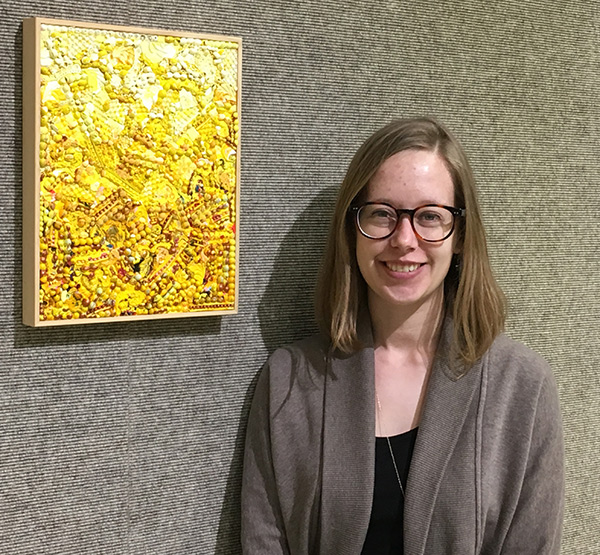 "Flowers, Beads, and Glitter," paintings by Natalie Harrison, will be on display in the Samford University Art Gallery March 1 – 26. Harrison also will provide an artist's talk March 1 from 4-5:30 p.m.  
Harrison works as the administrative and gallery assistant for Samford's Division of Art and Design in the School of the Arts.  
The show is the first solo exhibit for Harrison and consists of tapestries made of paint. She experiments with various manipulations of paint in which the paint strays away from the picture plane and becomes a three-dimensional form. In this body of work, she has molded paint into bead, lace and floral forms. While the molds themselves remain consistent, the paint allows each bead to have individuality. These pieces are then meditatively collaged together to create a tapestry of paint. The detail of each piece urges the viewer to slow down and take a closer look. 
Harrison was born and raised in Nashville, Tennessee. She received her B.F.A in Studio Art from Middle Tennessee State University in 2009 and her M.F.A. in Painting and Drawing from The University of Tennessee, Knoxville, in 2013. 
She says, "Samford affords me the opportunity to continue my work as an artist while being part of an incredible creative community." 
Samford's Art Gallery, located in Swearingen Hall, showcases the work of alumni, students, faculty and guest artists each year and is open to the public. Gallery hours are 9 a.m. – 4 p.m. Monday through Friday.