Published on February 26, 2018 by Sean Flynt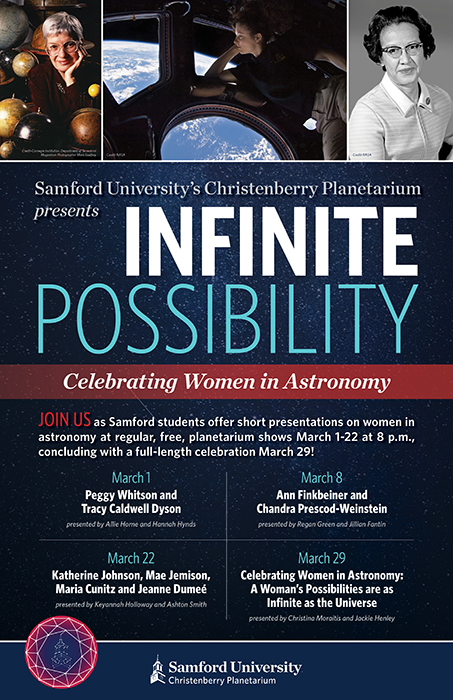 Samford's Christenberry Planetarium will host a free public series of presentations on women in astronomy March 1-29.
Samford students will make brief presentations on notable women astronomers before the start of the planetarium's regular 8 p.m. shows March 1-22, concluding with a full-length celebration March 29.
The events include:
March 1 Peggy Whitson and Tracy Caldwell Dyson (presented by Allie Horne and Hannah Hynds)
March 8 Ann Finkbeiner and Chandra Pressed-Weinstein (presented by Regan Green and Jillian Fantin)
March 22 Katherine Johnson, Mae Jamison, Maria Cunitz, and Jeanne Dumeé (presented by Keyannah Holloway and Ashton Smith)
March 29 Celebrating Women in Astronomy: A Woman's Possibilities are as Infinite as the Universe (presented by Christina Moraitis and Jackie Henley)
Planetarium seating is limited, and admission is first-come, first-seated.