Published on February 12, 2018 by Morgan Black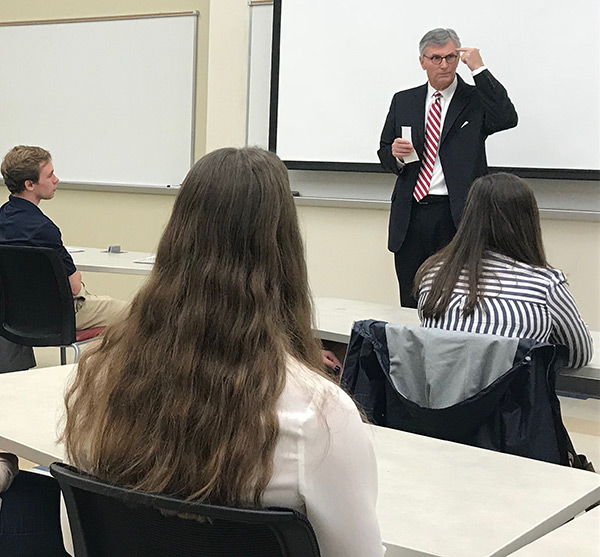 Tom Hough, retired vice chair of Ernst & Young, served as the keynote speaker for a Samford Professional Network event Feb. 7. Samford's Brock School of Business students, faculty and staff members, and alumni members of the Birmingham business community were present to learn insights from Hough's 36-year career. 
During his career, Hough successfully progressed to the highest ranks of the organization while keeping a positive attitude towards the company and its people. "People are so important to the culture of a company," Hough said. "I wasn't put on earth to work at Ernst & Young. The way I worked at Ernst & Young reflected my purpose." 
Randy Pittman, Samford's vice president for university advancement, commented on Hough's inspirational speech. "Hough's experience in leading the cultural transformation of a large, established business was an integral part of the ongoing success of Ernst & Young. Without a willingness to change and constantly improve, a business will eventually lose out to more nimble competitors. That is a message our students and alumni in the business community needed to hear." 
Because of Hough's leadership, the company now operates with the purpose of "committed to building a better working world."  
"His key point was that it is imperative that we respect everyone, and value their worth as individuals and contributors to the success of their business and to society as a whole," Pittman added. "I think that thought is central to everything we stand for at Samford." 
Following the morning event, Hough spent an hour speaking to a class of junior accounting students. In the class, he shared six points of career advice that he has noted throughout his career: always remember where you were when, learn something every day, lead from any chair, why not me, learn about others, and attitude is everything. 
These lessons shared by Hough not only engaged the students but seemed to put a look of joy on Hough's own face for being able to share them because he has "always remembered where he was when."