Published on February 14, 2018 by Joey Mullins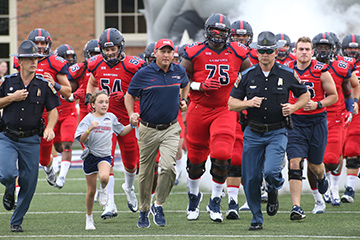 Non-conference games at ACC power Florida State University and FCS playoff quarterfinal team Kennesaw State University, as well as the always tough Southern Conference slate highlight Samford University's 2018 football schedule, released by the school Feb. 14. 
Samford will open the season with a Thursday night home game against Shorter University on Aug. 30. The Bulldogs will then travel to Tallahassee, Florida, to take on the Florida State Seminoles Sept. 8. The game at FSU will be the first matchup between the schools since Samford traveled to FSU to open the 2010 season. 
The Bulldogs will then host Mercer Sept. 15 for the team's Southern Conference opener, which will also serve as Family Weekend on the Samford campus. The Bulldogs will then travel to SoCon rival Chattanooga Sept. 22. 
Samford will play its final non-conference game Sept. 29, when the Bulldogs play at Kennesaw State. The Bulldogs and Owls met twice in 2017, with Samford earning a 28-23 victory in the season opener at Seibert Stadium, and KSU taking a 28-17 win in the first round of the FCS Playoffs at KSU. 
Samford will return home for its next two games, hosting Western Carolina (Oct. 6) and VMI (Oct. 13). The team will then play at Furman (Oct. 20), before hosting Wofford for homecoming Nov. 3. 
Samford will spend the final two weeks of the regular season on the road. The Bulldogs will wrap up the regular season with games at The Citadel (Nov. 10) and ETSU (Nov. 17). 
Season tickets for the 2018 football season will go on sale this summer. For more information on Samford football tickets please call the Samford Athletic Ticket Office at 205-726-DOGS. 
2018 SAMFORD FOOTBALL SCHEDULE
Aug. 30 (Thurs.) -- Shorter University                                       
Sept. 8 -- at Florida State University                   
Sept. 15 -- Mercer (Family Weekend)*
Sept. 22 -- at Chattanooga*                 
Sept. 29 -- at Kennesaw State              
Oct. 6 -- Western Carolina*                 
Oct. 13 -- VMI*                                     
Oct. 20 -- at Furman*                           
Nov. 3 -- Wofford (Homecoming)*      
Nov. 10 -- at The Citadel*                    
Nov. 17 -- at ETSU*                              
*-Southern Conference Game