Published on September 17, 2018 by Morgan Black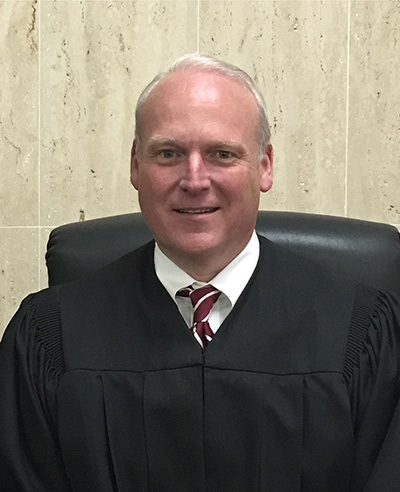 Samford University's Cumberland School of Law is known for success in trial advocacy preparation. To continue this legacy, the school has officially named Judge Jim Roberts '94 head coach of Cumberland's National Trial Team.
Roberts, a Circuit Court Judge for Tuscaloosa's 6th Judicial Circuit, began coaching national trial teams at Cumberland during the 1998 academic year and has led the teams to numerous national and regional accomplishments. Throughout his involvement, Cumberland's teams have twice won the National Civil Trial Competition (NCTC) National Championship (2013 and 2017), the Lone Star Invitational National Championship in 2007 and fifteen National Trial Competition (NTC) Regional Championships. Several of those teams have placed in the top eight nationally. Teams training under Roberts' leadership have won eight NTC regional championships in the past ten years, sweeping the regionals, sending two teams to nationals, three times in those ten years.
Many Cumberland advocates coached by Roberts have won individual honors such as Best Advocate, Best Opening Statement and Best Cross Examination. Additionally, teams trained by Roberts have been recognized for their ethical standards by twice winning Professionalism Awards at NCTC.
"The students are the reason for our success," Roberts said. "I just help them realize what they can become."
Recently, Roberts developed a summer Trial Skills Boot Camp for all trial team members taught by Roberts and other trial team assistant coaches. This training resulted in the trial team earning the number two position in the 2017-2018 Trial Competition Performance Rankings composed by Fordham University School of Law. 
"That ranking would not have been possible without the hard work and dedication of our talented students and assistant coaches," Roberts added.
Roberts also serves as a member of a three-person board of directors for the National Board of Trial Advocacy Tournament of Champions, one of the premier invitational national trial competitions in the country, which invites only the top sixteen law schools based on a three-year performance record in NTC and the AAJ National Student Trial Advocacy competition.
Dean Henry C. Strickland commented, "Appointing Judge Roberts as Head Coach of the National Trial Team is a major step in moving the school's advocacy program forward and securing its national stature for the future. Judge Roberts was an outstanding trial lawyer before going on the bench, has proven to be a phenomenal coach and mentor to Cumberland's trial teams over the past 20 years, and has a superb reputation among trial advocacy educators around the country. This new role will enable him to expand his impact by training and mentoring other trial team coaches and organizing the national teams for maximum success. Judge Roberts embodies the Cumberland tradition of maintaining the highest standards of professionalism and excellence."