Published on October 3, 2018 by Bill Nunnelley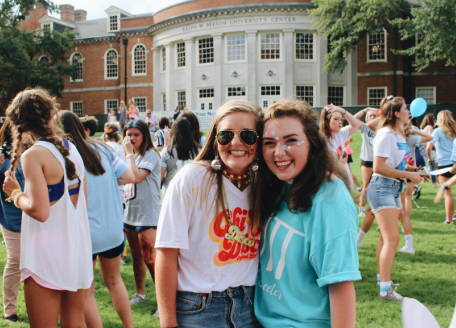 The number of Samford students who are members of one of the university's 15 Greek organizations increased this fall, based on figures compiled after annual Bid Days in September.
The average chapter size for sororities increased from 200 last spring to 222 this fall. The average for fraternities increased from 73 to 83 during the same period.
Nearly half of Samford undergraduates are members of a Greek organization. Overall, Samford has 1,761 Greek members and 3,535 total undergraduates.
"I continue to be amazed by our students," said Julie Fletcher Mincey, director of Greek Life. "Samford is blessed to have men and women who are intentional to invest in one another and in our Greek community."
Mincey said she was pleased with how the numbers increased and attributed the growth partially to "emphasizing values-based recruitment."
She noted that the mission of Greek life at Samford is to enhance the student experience through fraternal and faith-based connections.
"Sororities and fraternities at Samford are purposeful, serving the community and giving to righteous causes because that's what Samford is about," she said. "Among the stated values of Greeks are service, scholarship and leadership. They also value brotherhood and sisterhood and  developing skills and potential through personal and collaborative experiences."
Greeks had a cumulative grade point average of 3.37 after the spring of 2018 while all undergraduates had an average of 3.30, she noted.
Recruitment was "overall a great experience," added Luis Aponte, assistant director of Greek Life. "It was exciting to see so many students interested in joining the Greek community. I am looking forward to watching these new members grow and contribute to their respective chapters."