Published on October 3, 2018 by Ashley Smith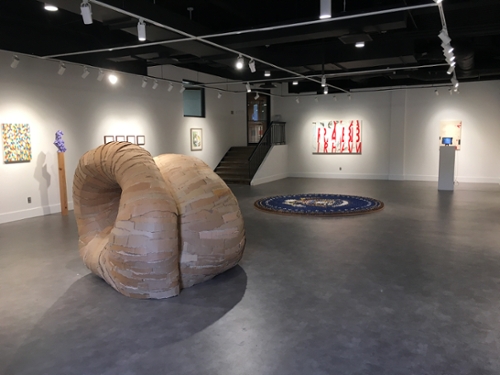 Samford art and design faculty are featured in a new gallery show that opened this week in the recently remodeled Art Gallery on Samford's campus. The exhibit displays work of current members along with several retired professors including Don Rankin, Robin Snyder and Lowell Vann.
According to assistant professor and gallery coordinator Stephen Watson, "This exhibit is a testament to Samford's conviction that the best art teachers are professional artists." Watson hopes the group of work will be a gift to the Samford community by humanizing its faculty. "It requires a certain level of vulnerability to show our students our own art. We can expect that they will scrutinize our work similarly to our analysis of their projects in the classroom," he added.
On display from Oct. 1–Nov. 3 with special Homecoming hours, the show is open to the public and will host discussions for Catalyst classes. Faculty participants gathered on Oct. 2 to share insights with guests and students. Joe Cory, Richard Dendy, Lauren Evans, Scott Fisk, Charles Ford, Maureen Forman, Natalie Harrison, Jeannie Krumdieck, Larry Thompson, Stephen Watson and Mary White all have pieces as part of this year's show. From sculpture to interactive works, the exhibit demonstrates the breadth of talent in all the art and design areas. The School of the Arts Division of Art and Design offers degrees in fine arts, graphic design, interior design and several interdisciplinary options.
The 2018-19 Art and Design Series is underwritten by John and Marsha Floyd and offers Samford and the Birmingham community an opportunity to enjoy work from students, faculty and guest artists throughout the year. The gallery is open Mon.–Fri., 9 a.m.–4 p.m. and is located in Swearingen Hall.