Published on May 1, 2019 by Andrew Russell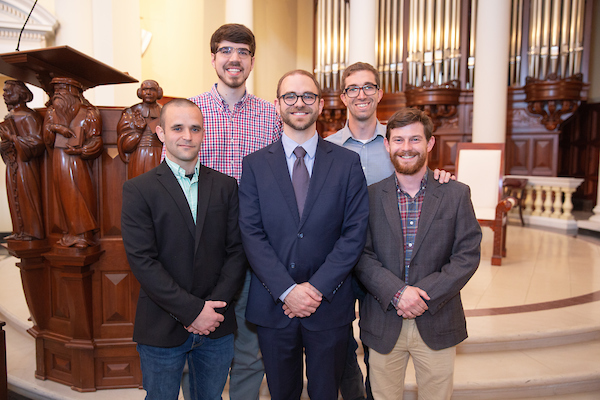 Five students of Samford University's Beeson Divinity School were honored on April 23 for outstanding achievement in various fields of study for the 2018-19 academic year during a special community worship service.
Tom Holsteen, who will graduate on May 3, received the James Earl Massey Student Preacher Award for excellence in preaching. He also preached a sermon entitled "Do You Love Me?" during the April 23 worship service. Through the story of Jesus' restoration of Peter in John 21, Holsteen reminded the Beeson community that the most important prerequisite for fruitful Christian ministry is devotion to Jesus Christ. 
Four other students who graduated in December 2018 received the following awards.
Tyler Kerley received the History and Doctrine Award in recognition of his exemplary achievement in historical and systematic theology. 
Michael Davis received the William M. Todd Award for Biblical Languages in recognition for his distinguished scholarship in the study of the Holy Scriptures in their original languages.
Corey Powell received the Pastoral Ministry Award for his outstanding achievement in the study of pastoral theology and practice of pastoral ministry.
Justin Hendrix received the Most Distinguished Student Award in recognition of his outstanding and holistic achievement in scholarship, Christian spirituality and ministry involvement. 
Watch Holsteen's sermon and the award presentations on Beeson's YouTube channel.