Published on May 8, 2019 by Sean Flynt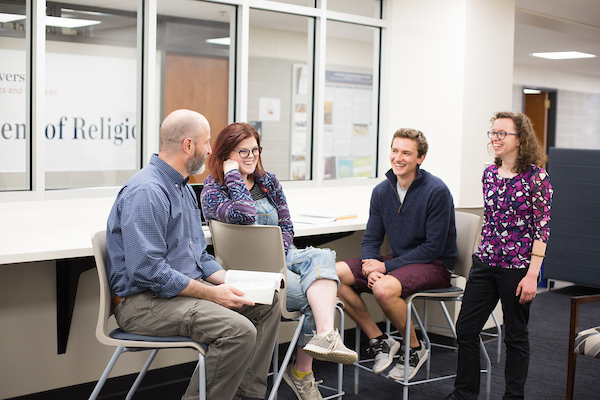 Samford University's Department of Religion became the Department of Biblical and Religious Studies after approval of the change by the university's Board of Trustees May 7. 
"With new programs, new courses, a new faculty colleague and a new vision for preparing the next generation of Christian leaders, this a very exciting time in the life of our department," said department chair Roy Ciampa. "The name change reflects that," he said, "and makes the department's commitment to Christian foundations more explicit." 
Ciampa said the department has added a new major and minor in Biblical studies, in addition to a new minor in theology and ethics, to provide in-depth study of the Bible–its content and interpretation as well as the cultures and lands of its origin.
Likewise, the Biblical Perspectives core curriculum course will become Biblical Foundations, focused on providing a strong foundation of Bible literacy, including familiarity with the Bible's contents and primary theological and ethical themes. The revised course will also be intentional in supporting faith formation through an emphasis on the integration of faith and learning in the study of Scripture and will stress the relevance of the Bible for contemporary Christian faith and practice.
Will Kynes, a specialist in the Old Testament, will join the faculty this fall to support the emphasis on foundations and increase the department's already strong scholarly focus on the Bible. Kynes earned graduate degrees from the University of Cambridge, University of St. Andrews and Southern Baptist Theological Seminary, and comes to Samford from the theology faculty of Whitworth University, where he was assistant director of the university's honors program. His many publications include the books An Obituary for "Wisdom Literature": The Birth, Death, and Intertextual Reintegration of a Biblical Corpus and My Psalm Has Turned into Weeping: Job's Dialogue with the Psalms. 
The new name also addresses the ways the next generation of students view their college experience–especially their desire to create a custom path to prepare them for entrepreneurship and personally meaningful careers. Ciampa noted that many students already combine the department's majors with majors and minors from other Howard College of Arts and Sciences departments and other academic divisions. The department's new name better advertises that flexibility.
"All of this reflects our commitment to being the ideal destination for men and women who want to build a solid foundation of faith and understanding for a life in ministry or missions, educating future generations, serving the suffering, transforming business, or any other calling," Ciampa said.
"I have been thrilled to see the fresh energy and creativity that has charged the department under Roy Ciampa's first year of leadership here," said Howard College of Arts and Sciences dean Timothy D. Hall "The new department name reflects a fresh vision and direction for the program and lays essential groundwork for a developing synergy with the new Department of Christian Ministry in our School of the Arts. I look forward to supporting this effort to deepen our graduates' preparation in Biblical studies as a vital part of their liberal arts education here at Samford."
Samford Provost and Vice President for Academic Affairs J. Michael Hardin also emphasized the unified approach to developing Christian foundations across disciplines and academic colleges. "It's gratifying and inspiring to see how this community unites Samford's Christian mission with academic innovation," Hardin said. "We see in the creative, student-focused and Christ-centered changes in this department exactly what distinguishes Samford University as a whole."