Through our global missions programming, we seek to heighten student awareness of God's work in the world and to facilitate student involvement in that work. We seek to offer students opportunities to experience the world and other cultures as they develop their own understanding of what it means to be a global Christian. These opportunities are varied in character and context, and we hope you take advantage of them!
Throughout the year, the Office of Spiritual Life plans events that promote a global mindset among Samford students, encouraging them to pray and be aware of spiritual and physical conditions of believers and non-believers alike. Our hope is that after students leave Samford, they will be well prepared to enter the world with motivation to spread the Gospel of Jesus Christ internationally.
Go Global Week
Go Global Missions Emphasis Week takes place on campus each fall semester. During this exciting week of events on campus, students have the opportunity to engage missions representatives from all around the world and to hear from nationally renowned global missions speakers. Our hope is to inspire students toward a life of deeper commitment to the Great Commission and to educate students about how to get involved globally.
Journey Fund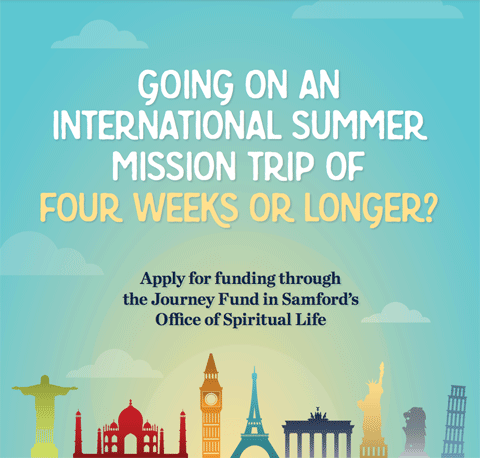 Any full-time Samford undergraduate going on an international mission trip of four weeks or longer during the summer may apply for financial assistance for their trip. The application process takes place during the spring semester.
Global Mission Scholars
The Global Missions Scholars program is designed for incoming freshman students who sense a call to global missions as a vocation, but also may be interested in one of the many areas of study at Samford, such as computer science, nursing, business, or education. We would like to encourage students in developing their natural skills and talents in the classroom, while at the same time, nurturing their desire to use their skills in reaching the world with the Gospel of Jesus Christ. Through mentoring, peer discussions, and cross-cultural immersion, this program will assist students in achieving a balanced approach toward preparation for a vocation in missions.
Global Missions Scholars recipients will receive a one-time travel stipend up to $3,000 to be used toward the student's required cross-cultural missions immersion. In addition, each scholar will receive a one-time conference stipend to be used toward expenses related to a global missions conference or educational opportunity.
Global Involvement on Campus