Samford's finance major provides quality, broad-based instruction in three primary areas: investments, financial markets and institutions, and corporate/managerial finance.
Market Ready
Upon completion of Samford's finance major, graduates can provide a thorough analysis of a financial situation and make accurate decisions based on their analysis making them market ready. Students receive unparalleled hands-on experiences such as internships, career fairs and networking events, and real-world learning opportunities which aid in preparing them for a successful career.

Internships and Professional Development Opportunities
Finance majors have the chance to network with employers at the annual department career night. This event, along with other regular professional development opportunities throughout the year, allows students to connect with industry professionals to learn more about finance internships and full-time career opportunities. In the past Samford finance majors have had the opportunity to intern for many firms, including Bank of America, Merrill Lynch, Welch Hornsby, Highland Associates, Regions Financial Corporation and Protective Life.
In addition to the annual career night, students have access to networking opportunities through the Commercial Real Estate Women Network, the CFA Society of Alabama, the Association for Financial Professionals, AIM Group, the Financial Planning Association and the Birmingham Venture Club, as well as through connections of the finance faculty and the department's two advisory boards.
Job Placement
Ninety-nine percent of Brock School of Business graduates are employed or in a graduate program six months after commencement. Our finance graduates are employed in various sectors including financial planning/advising, investment management, commercial real estate, banking, insurance and risk management, investment banking/private equity, and health care, just to name a few.
A very small sampling of the many outstanding firms that have employed our graduates include Bridgeworth Financial, Bloomberg, Regions Financial Corporation, Southern Company and Founders Investment Banking.
International Partnerships

Chartered Financial Analyst Institute Affiliated University
Samford is an Affiliated University of the Chartered Financial Analyst (CFA) Institute, a global nonprofit organization that aids investment professionals with financial education. As an Affiliated University, Samford students are provided with professional experiences, quality education, and a high standard of ethics which help prepare them for pursuit of the CFA charter, the gold standard among investment credentials. The affiliation also provides Samford the ability to award scholarships for students to take various levels of the CFA exam they take to achieve the certification.

Bloomberg Experiential Learning Partner
As a Bloomberg Experiential Learning Partner (ELP), Samford provides leading experiential learning opportunities for its students through the integration of the Bloomberg Terminal in the finance curricula.
This partnership provides advantages to Samford students such as:
Bloomberg Market Concepts, a self-paced e-learning course that serves as an introduction to financial markets;
Access to exclusive Bloomberg webinars hosted by market specialists;
The opportunity to participate in the Bloomberg Trading Challenge; an eight-week student-team competition that focuses on investment strategy;
And, access to Bloomberg Businessweek Case Studies.
Student Involvement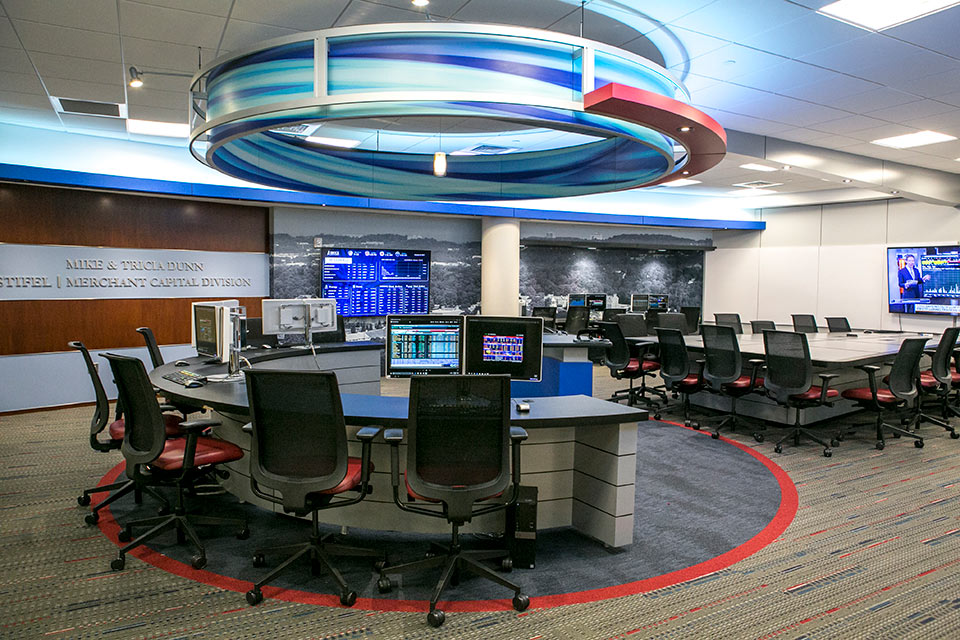 The Bulldog Investment Fund and Portfolio Management Room
The Bulldog Investment Fund, a student-managed investment fund, and a three credit-hour elective, allows students to conduct security analysis and portfolio management of more than $3.5 million of the university's endowment. This class meets in the state-of-the-art Portfolio Management Room in Cooney Hall which is equipped with multiple Bloomberg Professional Terminals.
Alfa Risk Management and Insurance Lab
The Alfa Risk Management and Insurance Lab is a major component of a multipronged initiative to prepare Samford students for careers in the risk management and insurance industry. Equipped with leading data analytics software used in the industry, students will use the space to work on real-world projects for industry firms as part of course projects. Future goals of the initiative include a student managed insurance company and a study abroad program which will focus on the London insurance market.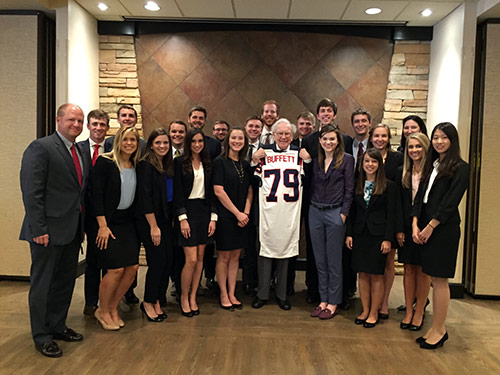 Financial Management Association (FMA)
Samford's student chapter of the Financial Management Association International (FMA) regularly receives Superior Chapter recognition, which is awarded each year to fewer than 10% of all chapters. Students have traveled to the headquarters of Berkshire Hathaway in Omaha, Nebraska, where they engaged in dialogue with its chief executive officer, Warren Buffett, who is considered one of the most successful investors in the world. They've also participated in several trips to New York City where they've visited Wall Street along with a number of high-profile financial institutions.
Finance and Economics Women (FEW)
Women are often minorities in finance and economics workplaces. The Finance and Economics Women student group, also known as FEW, was chartered at Samford University in an effort to connect and equip undergraduate women who are interested in finance and economics with working professionals. Since its launch in 2019, several universities have connected with the Samford group to heed their advice on establishing their own FEW organization. Students have participated in national conferences including the annual Women in Economics Symposium hosted by the Federal Reserve in St. Louis, Missouri.
Gamma Iota Sigma (GIS)
Gamma Iota Sigma is the only international business fraternity for students of insurance, risk management and actuarial science. GIS promotes and encourages student interest in the industry while encouraging the highest moral and scholastic attainments of its members. Through this group, students have the chance to participate in national conferences that provide networking with risk management and insurance industry professionals.
MBA Finance Concentration
Samford's MBA program offers specialized concentrations for students who wish to have a more in-depth understanding of various business disciplines. Three concentrations are available including finance. Graduates who have specialized in an MBA concentration are working in a variety of upper-level role in industries such as banking and financial services, power and utilities, technology, law, construction and more.
Finance Faculty
Brock School of Business faculty are highly motivated and have deep professional experience. They are enthusiastic about their discipline and are passionate teachers and scholars whose commitment will enrich your time at Samford University.
Advisory Boards
The Economics, Finance and Quantitative Analysis (EFQA) Advisory Board and the Risk Management and Insurance (RMI) Advisory Board play an important role as a conduit for our finance majors to the business community. Board members provide guidance on course content so that our curriculum stays current with the needs of the profession. While some of the board members offer internships and jobs with their companies, the introductions our board members give us to other professionals in the business community are extremely valuable – both in terms of employment opportunities and mentorship for our students.
Is Finance a Good Fit for You?
A finance professional should, above all, possess integrity. One phrase you will hear repeatedly as a Samford major is "fiduciary duty." This means that as a financial professional, you have people who are trusting you to devote yourself to looking out for their best interests. Earning that trust requires a commitment to the highest ethical standards.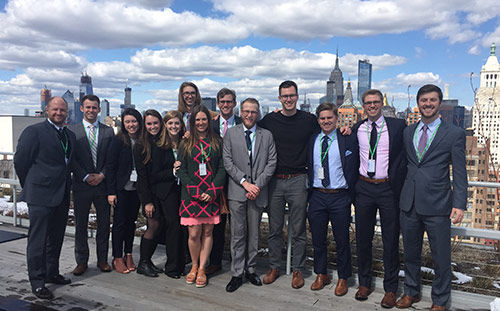 If finance sounds like it's a good fit for you, connect with a Brock School of Business adviser to learn more by emailing brockadvising@samford.edu.