Why Study Sports Marketing in Brock School of Business?
A recent survey of 2,000 sports industry executives revealed that earning a sports management/administration/marketing degree from a business school is the #1 piece of advice they would give aspiring high school students pursuing a career in the front office of a professional sports team.
The Brock School of Business sports marketing program prepares our graduates for jobs on the business side of the sports industry. Recent graduates have received employment offers at organizations such as the Houston Texans, Green Bay Packers, Watford F.C., ESPN, lululemon, Carolina Panthers, adidas, Atlanta Hawks, New Jersey Devils, Portland Trailblazers, Hibbett Sports, Indianapolis Colts, and many others. 
Gain Real World Sports Industry Experience
Sports marketing students complete two consulting projects for major sports properties to help build their resume. The first project is completed in the Marketing Research (MARK 414) class during the junior or senior year and involves the collection of survey data for teams and brands.
The second project is completed in the Advanced Theory & Practice in Sports Marketing (MARK 431) class and is the capstone experience of the sports marketing program. The intensive nature of this course requires students to dedicate several weeks of fulltime effort to it. The course is offered in the May term of their senior year when they can focus solely on it. Once the project is complete, students travel  to the sports property headquarters to present to senior-level executives. This course is intended to be the last thing students complete before going on the job market.
Our students have presented to senior-level sports industry executives at the Coca-Cola world headquarters in Atlanta, GA, the Nike world headquarters in Portland, OR, the NBA in New York City, the Miami Dolphins at Hard Rock Stadium, the SEC headquarters in Birmingham, and the Chick-fil-A Peach Bowl in Atlanta, GA.
Sports marketing students also participate in an exclusive mentorship program with the Atlanta Braves.
Why a Concentration Instead of a Major?
When interviewing for a job in the sports industry it is crucial that candidates have a broad understanding of business including accounting, finance, operations, business analytics, etc. With this in mind we intentionally built the sports marketing program as a concentration to produce well rounded business executives.
The sports marketing concentration is added onto one of our six business majors (accounting, finance, economics, marketing, management, or entrepreneurship) which allows our students to develop sports industry specific skills that differentiates in the eyes of industry executives. Given the outstanding industry placement rate we have achieved, we are confident our approach is providing exactly what the industry desires!
In addition, our approach offers maximum flexibility upon graduation. Since students major in one of the six business areas , they have the option of pursuing careers outside the sports industry as well.
Finally, we have found that students often find their perfect niche at the intersection of their major within the sports industry. For example, we have had entrepreneurship majors in the sports marketing program graduate and start sports-oriented businesses, finance majors graduate and work for a sponsorship ROI agency, accounting majors graduate and work as a COO in college athletics, economics majors graduate and work in sports analytics and marketing majors graduate and work for ESPN sports marketing.
Preferred Sports Internship Opportunities for Students
The Brock School of Business sports marketing program offers a variety of ways to gain experience and insight into the industry. Students complete two internships, one with the NCAA D1 athletic department on campus and one with an external sports entity. Brock School of Business partners with sports organizations represented on our sports marketing advisory board to offer paid internships to our top-performing students as part of the Preferred Sports Internship Program.
Recent internships have included the NFL, Nashville Predators, Adidas and the Coca-Cola Sports Marketing Department.
Recent Student Projects Watch Job/Internship Signing Day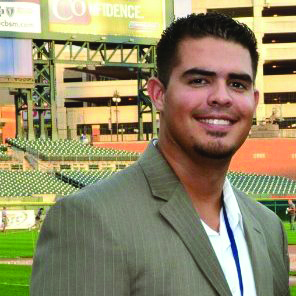 Having a degree from an accredited business school is huge in this industry. Building a successful team on the field is intricately tied to success in the front office. My degree from the Brock School of Business, prepared me to handle critical activities for my organization and provides a strong foundation for any job on the business side of the sports world. Giovanni Hernandez, Samford University Alum Manager, International Baseball Operations, MLB
What Will I Learn?
Rigorous Sports Curriculum 
The concentration presents a rigorous curriculum in areas such as sponsorship, international sports marketing, advertising, social media and analytics while paying close attention to industry trends. Students will be prepared for admission into top M.B.A./Sports Business programs in AACSB accredited business schools or gain employment in the sports industry.
What Makes Us Different?
Learn From Sports Industry Executives 
Brock School of Business attracts dozens of senior-level sports industry executives to speak on campus each year. Many of our students have made valuable industry connections during these events. Recent speakers have included the vice president of analytics for the Atlanta Hawks, the former president of Aston Villa F.C. and the commissioner of the SEC.
Students have the opportunity to work on original sports industry research topics and publish their work on our sports industry research website visited each year by over 90,000 people. Students also have the opportunity to learn about social media analytics by helping produce our annual Sports Brand Relevance Rankings based on millions of U.S. sports fans' social media data.
Faith. Sports. Influence.
The sports marketing program seeks to deliver a superior sports business education imbued by a Christian worldview. We recognize that people who work in the world of sports have significant cultural influence. Given this fact, we seek to develop future sports industry executives that are committed to excellence personally and professionally, who share a common goal of using their platform to glorify God.
We utilize a variety of methods to achieve this goal including partnering with a variety of faith-based sports organizations around the globe. The program coordinator, Darin White, serves on the advisory board of the Daniel Summit. Students in the sports marketing program have the opportunity to run the social media accounts of the Daniel Summit and attend the annual conference with hundreds of sports business executives representing over 100 teams/organizations across NFL, NBA, NHL, MLB, NCAA, MLS, MiLB, etc.
Study Abroad Opportunities
International Travel 
Working in conjunction with some of the top AACSB accredited business schools in the world, Brock School of Business offers sports marketing students an unmatched variety of academic and internship programs in multiple countries. Students enjoy the opportunity to travel with classmates and Brock School of Business faculty to study sports business abroad. These trips offer cultural and intellectual excursions and take students behind the scenes of some of the most famous sporting organizations in the world to show them how successful sporting events on the field are intricately tied to success in the front office and boardroom. Students have the opportunity to participate in live Q&A session with industry titans and participate in an international networking event with young sports business managers and students from all over the world.
Attend Global Sporting Events 
A key part of the program is the chance to visit renowned events and venues during active periods. Recent trips included access to the Wimbledon Championships, London Summer Olympic Games, Manchester United Football Club, and Harlequins Rugby Union. Learning is cemented through team challenges and behind-the-scenes insights. Many students have reported that it was a "life-defining experience" and one that has the potential to "influence their studies and professional careers for many years to come."
Meet the Program Coordinator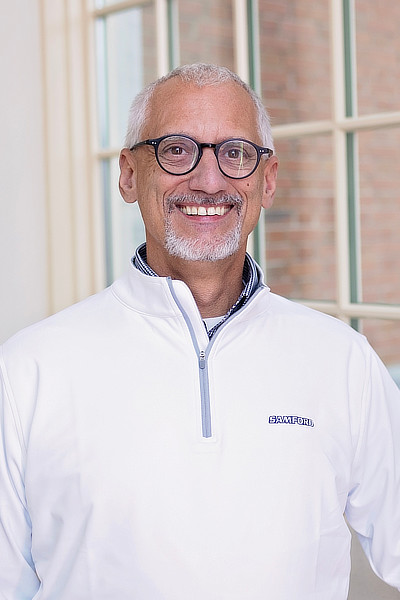 Darin White, Ph.D. Chair, Entrepreneurship, Management and Marketing,  Executive Director Samford University Center for Sports Analytics 
The survey of 2,000 sports industry executives discussed above also revealed that attending a program run by faculty with extensive sports industry experience is a must for aspiring high school students pursuing a career in sports. The sports marketing program at Samford is run by Professor Darin White who has crafted business relationships with some of the most prestigious sports organizations & corporate sponsors, including the NFL, MLB, MLS, NBA, Dallas Cowboys, Bayern Munich, Miami Dolphins, Atlanta Falcons, Atlanta United, Adidas, SEC, ACC, Nike, NASCAR, Atlanta Braves, Harlequins Rugby, Indy Car, Peach Bowl, PGA, Tampa Bay Lightning, MiLB, IFL, Coca Cola, Honda, BCBS, & Manchester United's sponsor AON.
Keep up with the latest news about the sports marketing program by following Professor White on LinkedIn or Twitter.
Sports Marketing & Analytics Advisory Board
The Sports Marketing & Analytics Advisory Board is a key asset to Brock School of Business' sports marketing program. In addition to providing regular feedback about the curriculum, members of the board serve as mentors, connections to industry-related internships or jobs and help build relationships with organizations in the industry for class projects such as those recently completed by students for the NBA and Nike. Additionally, individuals on the board provide funds for students to travel for class projects and support the program by advancing its reputation in the industry. Altogether, the Sports Marketing & Analytics Advisory Board offers opportunities for students to gain a unique, educational experience in the business side of sports.
Study Sports Analytics
To prepare individuals for a career in sports analytics, Samford launched a complimentary program to our sports marketing program in sports analytics. Samford's Center for Sports Analytics partners with Brock School of Business to offer rigorous sports analytics curricula for mathematically gifted and highly motived candidates paired with a real-world analytics internship in the sports industry.
To support the sports analytics program, Brock School of Business recently opened the M. Chad Trull Data and Sports Analytics Lab to give students a dedicated facility on campus to complete sports analytics projects.
Latest News

Spending Smart: A Comparative Look at Areas of University Spending Within Football Programs and Their Effect on Wins From 2005-2022
This project analyzes how different kinds of spending correlate to wins for Power 5 College football programs.  

Analyzing NBA Playoff "Risers" and "Droppers"
The NBA Playoffs consists of the best teams within the Western Conference and Eastern Conference during the Regular Season, with the best players during the Regular Season typically being featured in the Playoffs for contributing to the high regular season win total. 

Top 10 World Series Hitting Performances
To see the guidelines and a more in depth explanation of some of the metrics being used, as well as the methodology behind this ranking, check out the first part of this series of articles titled "Top 10 World Series Pitching Performances."