Sports Marketing Concentration
The Sports Marketing concentration offers students a chance to develop their skills for a career in the $500 billion dollar global sports marketplace. The sports business is a dynamic and growing industry in the U.S., Europe, Asia Pacific and elsewhere. Whether working on new product initiatives at Under Armour, Trek, or Nike; negotiating sponsorship deals for a Fortune 500 company; implementing a marketing plan for the SEC Championship football game; working in the burgeoning fantasy sports industry; developing a merchandise mix strategy for Dicks Sporting Goods or Cabela's; or implementing fan development programs for an NFL team, graduates find themselves at the center of a high-profile industry where passion for sports only takes you so far. With faculty considered leaders in their field and out-of-classroom experiential learning opportunities, students can combine their passion for sports with professional training unmatched by any other AACSB business school in the South.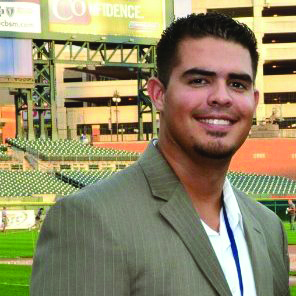 Having a degree from an accredited business school is huge in this industry. Building a successful team on the field is intricately tied to success in the front office. My degree from the Brock School of Business, prepared me to handle critical activities for my organization and provides a strong foundation for any job on the business side of the sports world. Giovanni Hernandez, Samford University Alum Manager, International Baseball Operations, MLB
What Will I Learn?
This program equips students with the skills necessary for career opportunities in the global sports marketplace. Students majoring in accounting, economics, entrepreneurship, finance, management, or marketing can add this concentration to their program, which prepares them for opportunities in team marketing, sponsor relations/activation, ticket sales, event marketing, sports retailing, and league operations. The concentration presents a rigorous curriculum in such areas as sponsorship, international sports marketing, advertising, social media, and analytics while paying close attention to industry trends. Students will be prepared for admission into top MBA/Sports Business programs in AACSB business schools or gain employment in the sports industry.
What Makes Us Different?
To be successful in the sports industry, experts universally agree that students must have more than just classroom training. Thus, at Samford University students are offered a variety of ways to gain experience and insight in the industry prior to graduation. The Brock School of Business holds several events throughout the year to educate students about the sports business industry.
The Brock School attracts leading industry executives to speak on campus, publishes the popular "Business Side of Sports" blog, and produces the annual College Football Ultimate Fan Engagement Index and the annual College Athletics Financial Outlook Report." The Brock School also requires all students to complete an internship in the sports industry. Birmingham has been rated as one of the top 5 cities in the nation for sports enthusiast and is home to dozens of sports teams and companies.
Internships & Client-Based Research Projects
Students gain valuable experience working for organizations like Nike, NBA, adidas, Manchester United's corporate sponsor AON, NASCAR's Talladega Superspeedway, PGA, Indy Car, Stewart-Haas Racing, SEC, Birmingham Bowl, Alabama Sports Foundation, World Soccer Shop, Racing USA, Atlanta Braves, Birmingham Barons, Bruno Event Team, Birmingham Barons, Hibbett Sports, World Games Association, Birmingham Hammers, Alabama State Soccer Association and others. All sports marketing students also gain hands-on experience by spending a semester working for the Samford University Athletic Department.
Study Abroad Opportunities
Working in conjunction with some of the top AACSB accredited business schools in the world, the Brock School of Business offers sports marketing students an unmatched variety of academic and internship programs in multiple countries. Students enjoy the opportunity to travel with classmates and Brock School faculty to study sports business abroad. These trips offer cultural and intellectual excursions and take students behind the scenes of some of the most famous sporting organizations in the world to show them how successful sporting events on the field are intricately tied to success in the front office and boardroom. Students have the opportunity to participate in live Q&A session with industry titans and participate in an international networking event with young sports business managers and students from all over the world.
A key part of the program is the chance to visit renowned events and venues during active periods. Recent trips included access to the Wimbledon Championships, London Summer Olympic Games, Manchester United Football Club, and Harlequins Rugby Union. Learning is cemented through team challenges and behind-the-scenes insights. Many students have reported that it was a "life-defining experience" and one that has the potential to "influence their studies and professional careers for many years to come."
From the Program Coordinator
+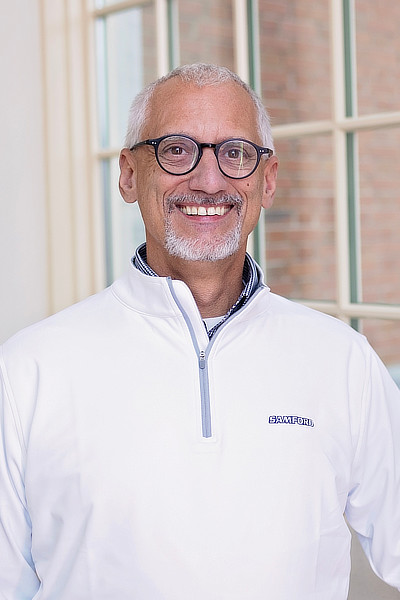 The Sports Marketing program at Samford University offers students a chance to develop their skills for a career in the $500 billion dollar global sports marketplace. Dr. Darin White, Sports Marketing Program Coordinator and Professor of Marketing
Latest News

Art Carden Talks about the Free Market and Ticket Scalping
If you wanted to get tickets to tonight's performance of the hit Broadway musical Hamilton. 

White to Chair AMA National Sports Marketing SIG
Samford University's Brock School of Business faculty member Darin White was recently appointed the chair of the national American Marketing Association's Sports Marketing Special Interest Group.