A busy, consumer-oriented and often cynical world can make ministry hazardous. The challenges and demands of pastoral work are constant and constantly changing. Even good ministers are stretched and stressed in this context. Focus becomes blurred. Energy wanes. Creativity ceases. Rather than ministry from an overflow, a deep longing for renewal is realized—a longing for the Source that gives meaning, hope, and purpose to life and ministry.
Effective pastoral ministry draws from the deepest wellspring of life and good ministers draw on that Source regularly through prayer, reflection, and study. From the overflow of this wellspring, clergy engage in the rich vocation of ministry: leading worship, preaching, counseling, teaching and guiding the work of their congregations.
The Center for Congregational Resources specifically provides for the renewal of clergy, both full-time, and bi-vocational, through a variety of educational, networking, consultations and grant offerings described in detail below.
Note: As of November 2023, The Sabbath Leave/Study Leave Programs for 2024 are already fully funded.  Due to limited funding, our awards are limited, and already allocated for 2024.
Bivocational funding and resources are still available. 
Sabbath Leaves and Study Leaves
Note: As of November 2023, The Sabbath Leave/Study Leave Programs for 2024 are already fully funded.  Due to limited funding, our awards are limited, and already allocated for 2024. 
Bivocational funding and resources are still available. 
Each year the Center can provide a very limited number of Sabbath Leave grants. For assistance in applying for a Sabbath Leave Grant, please  email the Center for Congregational Resources at resource@samford.edu.
The Sabbath Leave Program provides pastors with opportunities for spiritual, emotional, physical and intellectual renewal while spending time on Samford University's campus. Participating ministers work with Center staff to craft regenerative, self-directed programs of Sabbath leave. 
Pastors complete a Sabbath Leave Project of their own choosing, from research and writing to artistic composition. Ministers may apply for study leaves as short as two weeks or sabbaticals as long as three months. Sabbath leave stipends up to $5,000 are available, and matching financial or in-kind support is required of sponsoring congregations.
To facilitate and learn from the Sabbath Leave Program, collaborative covenants between pastors, congregations and the Center for Congregational Resources are necessary. To this end, designated lay liaisons are an important part of the Sabbath leave process.
Sabbath leaves are open to ministers of any age, race, sex or denomination.
 Helpful Documents and Forms
Documents are in PDF format unless otherwise specified.
Policies and Procedures: Participant Expectations
While on Leave
Day one of a Sabbath leave must be on campus for an orientation session.
Participants must engage in an individual Sabbath leave project of their choosing and design.
Participants may be asked to discuss their experiences on film for a promotional/educational video. While this is encouraged, it is optional.
Sabbath leave expenses will be reimbursed only if itemized receipts  and proof of payment (credit card statements) (or written records of mileage, reimbursed at the current mileage rate) are submitted to the CCR office. (Note: Samford University will not reimburse expenses for alcoholic beverages. Reimbursement for meals is limited to $40 per day).
Before Departing from Campus at End of Leave
Participate in a one-on-one interview with the center director.
Complete a brief exit survey.
Study Leave Program
Many churches provide their ministers a limited amount of time each year to attend denominational gatherings and continuing education events. Because available time is limited, busy ministers choose enrichment opportunities with care. Expectations are understandably high that attendance at such events will be worth the investment of time and expense.
The Center for Congregational Resources (CCR) offers a study leave grant designed to provide busy ministers an opportunity to have a one- to two-week study experience on the campus of Samford University. The program is intended to offer ministers resources needed to address specific areas of interest related to pastoral ministry. Examples of activities include focused time preparing a sermon series, pursuit of writing interests, interviews with the Department of Biblical and Religious Studies or Divinity School faculty to discuss topics of interest, or research related to an area of concern. Samford University offers extensive resources for pursuits such as these. Grant funds can be used for any expense related to study leave plans and activities.
Application Information
Each year a limited number of grants up to $2,000 are available. Interested ministers should  the CCR by email at resource@samford.edu to discuss interests and possibilities. A written proposal of no more than two pages, submitted by email, is required. The proposal should clearly present why the applicant is requesting a study leave and what he or she plans to do while on campus. A simple budget indicating how requested funds will be used is also required as part of the two page proposal.
Day Apart - Women Solo and Senior Pastors
The Center for Congregational Resources offers a program uniquely designed for women who are senior or solo pastors. Each year several Days Apart focus on fellowship with other women who share a similar journey, conversations with noted women authors, and personal spiritual formation. If you are a senior or solo pastor, experience rest and renewal in the company of others whose journey is akin to yours.
Pastoral Partnerships for Excellence
Through a Glass Darkly: Pastoral Leadership in Black and White
Overlooking the city of Birmingham from the crest of a nearby mountain ridge, Vestavia Hills Baptist Church is a world apart from its sister congregation, Sixteenth Street Baptist Church, located in the heart of the central city. At least, that's what most people think. Eliminate the blurring effects of historic time and socio-demographic space, however, and surprising similarities and helpful differences come to light. That has been the experience of Arthur Price of Sixteenth Street Baptist Church and Gary Furr of Vestavia Hills Baptist. As participants in Pastoral Partnership for Excellence, a project of the Center for Congregational Resources, these pastors joined with two other partner teams to conduct three-year case studies of each other's ministry and context. Important lessons about pastoral and congregational leadership have been learned by the partners. They have also developed relationships that continue to grow as they discover how their stories of life and ministry intersect at common points of challenge and fulfillment.
The work of the partnerships is presented in several useful formats. Brief video segments are included so you may see and hear the partners introduce themselves and describe what they have learned. Full text of their case studies can be viewed and downloaded. In addition to the video segments, brief audio segments are featured that include writers' comments and photos of the communities in which each lives. Select a team below to learn more.
The Pastoral Partnerships
Greensboro and Mission Birmingham
J. Fletcher Comer, pastor and worker with Episcopal Black Belt Ministries; Kervin Jones, pastor of 3rd Street Church of God in Greensboro, Alabama; and Frank Stone, Jr., Mission Birmingham
Sacred Heart of Jesus/Our Lady Queen of the Universe and Baptist Church of the Covenant
Vernon Huguley, pastor of Our Lady Queen of the Universe Catholic Church and Sarah Shelton, pastor of Baptist Church of the Covenant
Sixteenth Street Baptist Church and Vestavia Hills Baptist Church
Gary Furr, pastor of Vestavia Hills Baptist Church and Arthur Price, pastor of 16th Street Baptist Church
Bivocational Resources
Study Leave Program for Alabama Baptist Bivocational Pastors
Bivocational pastors fill a vital role in Southern Baptist churches in Alabama.  Most of these congregations have limited financial capacity.  These ministers are able to serve such churches because they have additional employment that provides most, if not all, of their income.
The Center for Congregational Resources offers a unique Study Leave program designed specifically bivocational and smaller church ministers. Funding of the program is provided through the Center's Davidson Fund for Rural Ministries.
Center staff help ministers plan study leaves that help bring renewal and address specific areas of interest to the ministers.  Applicants have access to resources at Samford including faculty in the Department of Biblical and Religious Studies and Beeson Divinity School.  
A limited number of grants up to $2500 are awarded for Study Leaves.  Grant funds can be used for any expense related to the study leave other than international travel. 
Interested congregations and/or ministers should contact the CCR Program Director, resource@samford.edu for more information or for details on how to apply.
Auchmuty Congregational Leadership Resources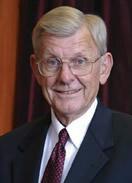 As a part of its 50th anniversary celebration in May 2004, Shades Crest Baptist Church named James A. Auchmuty, Jr. as pastor emeritus and established the Auchmuty Congregational Leadership Fund. Developed in partnership with the Center for Congregational Resources at Samford University, this fund sponsors congregational leaders as they pursue spiritual health and effective leadership skills. Its program supports inspiring lectures, informative seminars, practical workshops, and renewing sabbatical and study leaves for pastors and congregational leaders. Because "Dr. Jim's" vision is for all God's people, the fund provides programs that are ecumenical.
James A. Auchmuty, Jr.
This vision for the future of church ministry honors the life and work of James A. Auchmuty, Jr. "Dr. Jim" has sacrificially given of himself to individuals, families, congregations and communities for more than 50 years as a pastor, friend and mentor. For 27 years, he served as pastor of Shades Crest Baptist Church in Birmingham, Alabama. 
Lecture and Conference Speakers
The Auchmuty Lecture is offered each spring at Samford University.
2007—Dr. Diana R. Garland, Dean, School of Social Work, Baylor University
2008—Millard Fuller, former president and founder, Habitat for Humanity
2009—Dr. Graham Walker, McAfee School of Theology, Mercer University
2011—Dr. John Hayes, Professor Emeritus of Old Testament, Candler School of Theology, Emory University
2013—Dr. David Mathews, president and chief executive officer, Kettering Foundation
2014—J. Brent Walker, executive director, Baptist Joint Committee for Religious Liberty
2016 - Dr. Cameron Jorgenson, Associate Professor of Christian Theology & Ethics
Campbell University Divinity School. His convocation lecture entitled "Why Theology Matters" is available on Vimeo.
2017 - Dr. Matt Cook, Senior Pastor at First Baptist Church of Wilmington, North Carolina. His convocation lecture entitled "The Gospel of the Dying Church" is available on Vimeo.
2018 - Dr. George Bullard, Congregational Consultant,  North Carolina. "Becoming a Faith Soaring Church".
2020 - Dr. Ronald W. Richardson, "The Challenge of Polarization - Seeking Healthier Families, Congregations, and Communities".
How to Contribute
Are you interested in investing in the renewal and inspiration of congregational leaders for decades into the future? Your gift to the Auchmuty Congregational Leadership Fund can make this possible. If you would like to make a gift in honor of the life and continued legacy of James A. Auchmuty Jr. or simply make an investment toward excellence in congregational leadership, it is easy to do through Samford's online donation page. Simply enter your information in the spaces provided, and choose "Other, please specify," next to the line that says, "Apply my contribution to this fund," and type "James Auchmuty Congregational Leadership Fund," in the "Other Fund" box.
C. Otis Brooks Fund for Pastoral Leadership Enrichment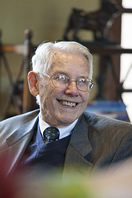 The C. Otis Brooks Fund for Pastoral Leadership Enrichment was established to provide scholarships for ministerial Sabbath and Study leaves through the Center's Sabbath Leave Program. The fund is in honor of Dr. C. Otis Brooks, pastor emeritus of Vestavia Hills Baptist Church. The program hopes to provide opportunities for ministers to experience spiritual, mental, physical and emotional renewal through "Sabbath" time of three weeks to three months or "Study Leave" time of up to two weeks away from ministry duties.
"Over the decades of his ministry, Dr. Brooks has been a true mentor, teacher, colleague, and friend to ministers," said Michael Wilson, CCR program director. "His kind, caring manner and the way he always seems to find an encouraging word to say are only two examples of many ways he has been a role model of effective pastoral ministry. This fund will allow us to extend his positive influence in the lives of ministers far into the future."
This fund will help make it possible to participate in an activity Brooks found to be among the most beneficial to him and his ministry. The responsibilities and demands of congregational ministry are such that time away for mental, spiritual and physical renewal is rare. Very early he discovered the importance of extended time set aside for study and renewal. Brooks made it his practice to spend a period of weeks each year for the purpose of such renewal.
Of the new fund, Brooks said, "The time away for study and renewal was of such benefit to me, I started making it a part of my routine each year. I'm glad this new fund will help other ministers have opportunities for Sabbath time. I know from experience what a difference it can make in their lives and ministries."
Brooks retired from Vestavia in 1988 but remained active in Baptist life over the years. He was interim pastor of Kowloon Baptist Church in Hong Kong for six month after his retirement. Later, he was chaplain of Unity Hospice and Minister to Senior Adults at Vestavia Hills.
Samford University conferred an honorary doctorate on Brooks in 1987.
For more information about the Brooks Fund for Pastoral Leadership Enrichment, email resource@samford.edu. Give online, or send donations to the Office of University Advancement, Samford University, 800 Lakeshore Drive, Birmingham, AL, 35229, indicating the gift is to the CCR Brooks Fund.
Online Resources
Sustaining Pastoral Excellence Projects
Online Resources
Other Resources for Pastoral Leaders
Helpful Web Links
Racial Reconciliation Resources
www.bcri.org—The Birmingham Civil Rights Institute
www.nccj.org—The National Conference for Community and Justice
www.ethnicharvest.org/ideas/reconcilitation.htm—Good resource related to multicultural ministry; site contains other useful materials for congregations
www.racialreconciliation.com/OBOS.html—Information about book One Body, One Spirit: Principles of Successful Multi-cultural Churches
www.racialreconciliation.com/BBAW.html—Information about book Beyond Black and White: Reflections on Racial Reconciliation
www.racialreconciliation.com/UBF.html—Information about book United by Faith, key resource used by Kervin Jones while conducting the case study of Mission Birmingham
www.dexterkingmemorial.org—Link to historic Dexter Avenue Baptist Church in Montgomery, Alabama
www.alban.org—Various resources addressing numerous topics of concern for congregations and pastoral leaders