Published on April 13, 2014 by Philip Poole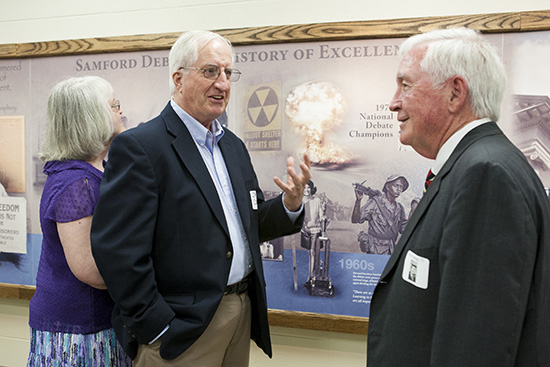 About 50 former members of Samford University's debate team attended the first-ever debate reunion on campus April 12. Attendees represented every decade since the 1950s and included bankers, lawyers, teachers and a variety of other professions.
Debate has been one of Samford's nationally-recognized programs for decades, including a national championship in 1972. Former program directors T. Brad Bishop, George Coulter and Michael Janas, along with current director Ryan Galloway were featured in a highlights video that traced the recent history of the program.
"Those years I was debate coach at Samford were some of the happiest of my life because of the students who were in the program," said Bishop. "I made friendships that have lasted forever."
Bishop, who now teaches at Samford's Cumberland School of Law, was coach of the national championship team.
Howard College of Arts and Sciences Dean David W. Chapman also talked about the prominence of the debate program.
"When I became dean in 2001, I inherited this wonderful program" Chapman said. "Since then, we've been able to put together better facilities. We've been able to raise some scholarship funding. We have an outstanding coach."
But, he emphasized, "there is still more that we want to do." A planned renovation of Brooks Hall will include a new debate suite.
At a closing banquet, W. Randy Pittman, Samford's vice president for advancement, commended those attending the reunion for continuing their success after graduation.
"The successes that people in the program have had through the years affirm the success of the program itself," Pittman said. "I look around the room and see those successes, and I want you to know that your university is very proud of you and of this program."
Reunion attendees participated in an open house in the current debate program suite where they viewed photos and other memorabilia as well as a mural timeline that mirrored the program's history with the university's history and world historical events.
Chapman noted the important thread of that timeline. "Debate in every era has addressed the topics of the day that are pressing," he said. "These are issues that we have to have good public debate. What debate does nationally and for our Samford team is to get young adults, who are our future leaders, engaged in good public discourse."
Six members of Samford's current debate team also demonstrated their skills in a mock debate for attendees.