Published on May 23, 2016 by Philip Poole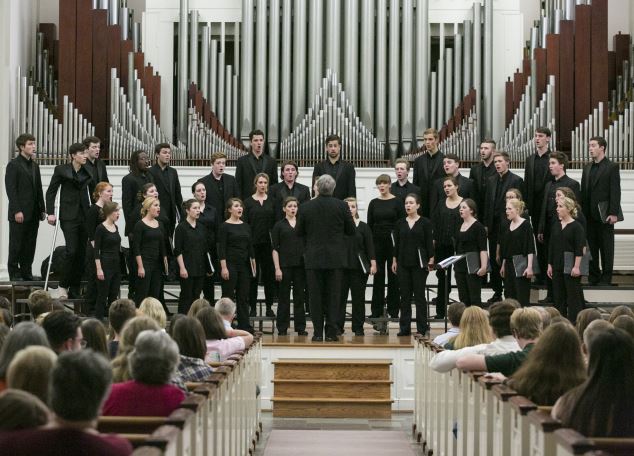 Samford University's A Cappella Choir swept top honors and scores in every category they entered plus the overall grand prize at the sixth International Music Festival, Siauliai Cantat, May 19–22 in Siauliai, Lithuania.
The 31-member choir, directed by Philip Copeland, associate professor of music, participated in the festival as part of a multiday tour of Baltic countries.
The choir received the Grand Prix and gold diploma with a score of 96. Other awards included Prize of the Audience, and top awards and gold diplomas in four categories: youth choirs, music after 1950, spirituals and folk music.
"This accomplishment was built on the long legacy of excellence in the 76-year history of the choir, especially the students who have competed in the past three international competitions with the choir," Copeland said. "Those students paved the way."
It was the fourth time in six years that the choir had placed in international competitions. In 2014, the choir won high honors at festivals in France and Austria during a European tour. They also took top honors in several categories during a 2012 competition in France. The choir has toured internationally for decades and performed at New York's famous Carnegie Hall in 2011.
"This year's choir has been special," Copeland added. "They were led by positive upperclassmen role models, but all of the students dug deep into the music and connected with it in very personal ways.
"My overwhelming feeling is one of gratitude to the faculty, staff and administration that enabled the choir to travel, but especially the students who put forth an extraordinary effort."
Copeland joined the Samford faculty as director of choral studies in 2010 and is only the sixth director of the A Cappella Choir in its storied history.