Published on June 7, 2016 by Kara Kennedy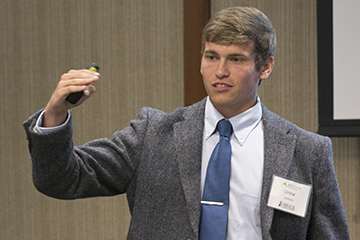 Nine Birmingham area entrepreneurs and business owners recently participated in a "Shark Tank" like event at Samford University. The experienced entrepreneurs, who are a part of a group that meets monthly at Brock School of Business, listened to presentations from five aspiring student-entrepreneurs and provided feedback, guidance and suggestions for each of their businesses.
The five student businesses were semi-finalist in this year's Regions New Venture Challenge held every spring.   Participating student businesses were Fondue-Licious, a fondue-based desert restaurant, by May 2016 graduate Kelsey Wyrosdick; clothing manufacturer, Pete Allan clothing manufacturer by senior management major Sam Devaney; WhenWearWhat, a clothing style app by senior marketing and entrepreneurship major Cameron Gonzalez; personal travel pillow, Hand Cloud Pillow, a personal travel pillow developed by entrepreneurship major Ryan Dickey; and trucking advertising, Axle Advertisements, a trucking advertising company developed by May 2016 graduate Drew Jackson.
Wyrosdick was grateful for the Roundtable's time. "Thank you for allowing us the opportunity to pitch to the roundtable. They offered great advice and insights." 
Jackson concurred, stating, "Thank you so much for setting up the Shark Tank event.  I had a blast networking and hearing my peers' business ideas.  I'm appreciative for the opportunity to pitch my idea to the people on the Roundtable.  I'm looking forward to seeing where Axle goes now"
The list of roundtable participants and their firms includes Brent Peinhardt, Vantage Associates and DirectorPoint; Max Stern, Diversified Maintenance; Marc Porter, Porter Capital Corporation; David Gentry, Sites that Sizzle; Martin Sher, AmSher Receivables; Deborah Lechner, Ergoscience; Jacob Shevin, Standard Furniture; Mark Haas, Meeting Street Graphics; and Jim Kennemer, Vision Research Corporation
The participants from the Roundtable were impressed by the students and their business ideas. 
 "I was impressed and inspired by the whole experience," said Sher.
Shevin agreed, stating, "The students did a great job of communicating their ideas to our group. "
 "I have been very impressed every time I have interacted with Brock School students.  It makes me feel confident about the future," Stern said.