Published on September 21, 2016 by Sean Flynt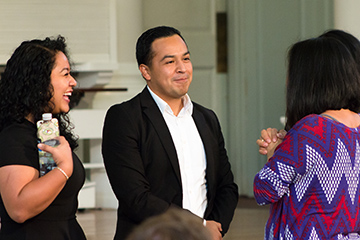 Samford University welcomed attorney and immigration reform advocate Cesar Vargas for a special public lecture Sept. 20. His presentation, part of the university's Hispanic Heritage Month celebrations, was cosponsored by Samford's Office of Diversity and Intercultural Initiatives, Latino Student Association, Latin American Studies program, and the Adelante Alabama Worker Center. 
Vargas is cofounder of the Dream Action Coalition, whose stated aim is to establish local, state and federal policies that secure fairness for the diverse immigrant community without discrimination based on immigration status or national origin. Vargas also worked with the presidential campaign of Senator Bernie Sanders, helping develop policies related to immigration and other issues. But on this night, Vargas turned away from the policy and politics of immigration to emphasize the individual experiences that he said have the greatest power to change hearts and minds, beginning with his own remarkable story.
Vargas, born in Mexico, was 5 years old when his father died and his mother, Teresa, decided to seek refuge and opportunity for her daughter and two sons in the United States. He has vivid memories of her from that time: Kneeling at the altar in Peubla Cathedral to ask God to watch over their family on an exodus in which 80 percent of women and girls are raped, and which claims the lives of hundreds each year; taking a hard fall in the run across the U.S.-Mexico border; squeezing his hand to let him know that she was there to protect him and see him to a better life.
Vargas studied hard in the family's new home in New York City, worked as a waiter from the age of 13 and believed that he could be everything his mother wanted him to be. When a counselor told Vargas he couldn't go to college without a social security number, he thought the dream might be ending.
His mother reminded him that when one door closes another door opens, so he kept pushing against a system that in many ways was designed to extinguish dreams. He graduated from high school, graduated from college, graduated from law school and passed the bar exam. He was an American, a "Brooklyn boy," but state law still considered him the other. The New York State Bar recognized his "stellar character" but would not admit him due to his undocumented status.
"Did they really expect a lawyer not to fight his own case?" Vargas joked. "I refused to stay in the shadows." Through four years, joined in his fight by a movement of colleagues, activists, his mother and even the governor of New York, Vargas challenged the law that had closed a door in his face. Finally, in February of this year, he became the state's first undocumented DREAMer lawyer. In that moment of victory, he turned to his mother and said, "Mom, your son is now a lawyer." That was what meant the most to him, he said. "I was her American dream."
Vargas encouraged his Samford audience to work locally for immigration reform and to understand that change comes not from individuals, but from people united by the common experience of finding new places to live and dream. After his presentation, an audience member asked Vargas what immigration reform looks like to him. The man immersed every day in every detail of immigration law replied very simply: "Us, coming together."