Published on October 5, 2016 by Kara Kennedy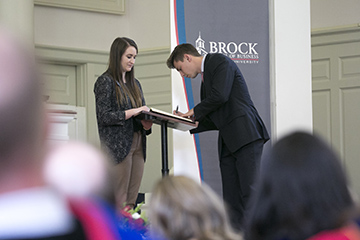 by Rachel Sinclair 
Families and faculty members filled the seats of Samford University's Reid Chapel Sept. 30 as 141 students were officially inducted into Brock School of Business during the sixth annual Rite of Passage Ceremony. 
The Rite of Passage is for students who are formally admitted into Brock School of Business. It symbolizes this achievement and imparts what is expected as they prepare for their professional career. 
An alumna, a current student and business school Dean Howard Finch spoke to the future students. 
Laura Kate Lindsey graduated from Brock School of Business in 2009. She is the community engagement and marketing events manager at Birmingham-based Buffalo Rock Company. She spoke about how her professors served as mentors and challenged her to pursue excellence during her undergraduate years. 
"Brock isn't okay with average," Lindsey said. "The professors raise the bar every day." 
She also expressed appreciation for the value of her degree. "When peers ask where I went to school, I proudly say, 'Samford University, Brock School of Business, Class of 2009.'" 
Micah Green-Holloway, a senior management and marketing major with a concentration in sports management, also spoke. Last summer, he worked for the Birmingham Barons minor league baseball teams as catering operations manager intern. He is currently interning for FitzMartin marketing and advertising agency. 
"The classes that you take at Samford are going to benefit you in the future," Green-Holloway said. "The classes are structured to enhance your skills in a manner that will prepare you for your dream job." He encouraged students to attend networking events, gain experience in the workforce and seek out a business professional to serve as a mentor. 
Finch spoke to the students before their official induction. "This is the bridge between being a student and becoming a competent and contributing professional," he said, emphasizing the importance of prioritizing academics within the next two years. 
"The faculty, staff and administration are ready and excited to help you succeed," he continued. "We pledge to do our part; you pledge to do your part. Together, we'll ensure a bright future for you personally, for Brock School of Business and for Samford University." 
Rachel Sinclair is a journalism and mass communication major and a news and feature writer in the Division of Marketing and Communication.