Published on November 27, 2017 by Maryellen Newton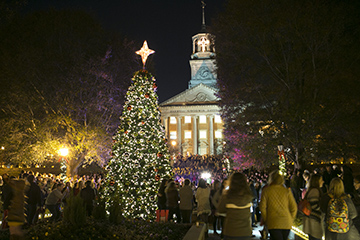 Christmastime is almost here, and among the many events scheduled on campus are two specifically for alumni. 
The Samford Family Christmas is open to alumni, faculty, staff, other friends of the university. It is a family-focused, child-friendly event with crafts, Christmas treats and Santa Claus. It's a free event that will take place on Dec. 2 from 9-11 a.m. in Harry's Coffeehouse in the Beeson University Center. 
"It's a great time for families to come together and celebrate Christmas," Casey Ramey, Samford's director of alumni programs. 
On Dec. 13, from 6-8 p.m., the Young Alumni Board of Birmingham will have its annual Christmas party at the home of Samford President and Mrs. Andrew Westmoreland. Young alumni in Birmingham (ages 22-35) gather to celebrate Christmas and reconnect with old classmates. 
Advance registration is requested for both events.
Maryellen Newton is a journalism and mass communication major and a news and feature writer in the Division of Marketing and Communication.