Published on January 29, 2018 by Morgan Black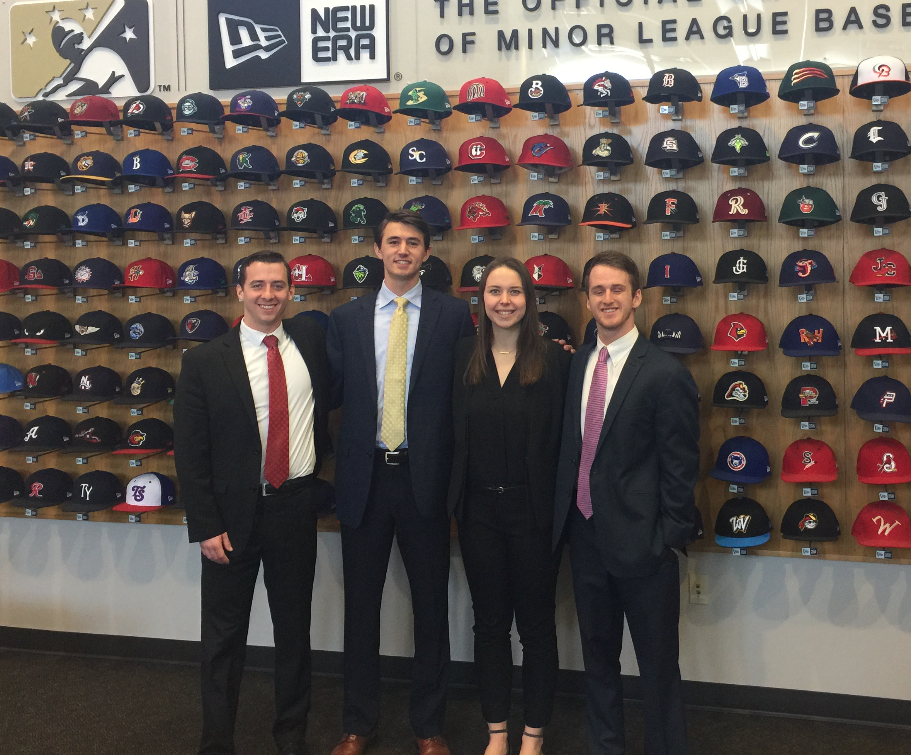 Samford University's Brock School of Business students have several concentration options to choose from, including the popular sports marketing focus. 
Current seniors concentrating in sports marketing Brooke Jenkins, Jay Michael Johnson, Josh Salter and Zachary Taunton experienced the ultimate opportunity during the fall semester including a grand finale that took place in January. 
The entire semester was spent doing research on how sports organizations can better influence Generation (Gen) Z, the generation following millennials, who are born into technology between 1996 and 2010. 
Following months of research and preparation, the students traveled with faculty members Matt Mazzei and Darin White to present their findings to Kurt Hunzeker, vice president of marketing Strategy and Research for the Minor League Baseball (MiLB) organization in St. Petersburg, Florida, and 30 members of his team. 
The presentation, "Engaging the Next Gen Fan," focused on strategies to engage Gen Z in the stadium, through social media and through community engagement. Their presentation received rave reviews from those who listened with the promise to submit their research to all 160 MiLB teams across the country. These teams will be able to incorporate the students' research and proposed plans as it relates to their own strategies for engaging young audiences. 
A follow up email from Hunzeker to White concluded: "Just about every person who sat in on the presentation has sent me a note to congratulate you all on an excellent job today. I would highly suggest that the four future All-Stars add their name to the presentation. It's always better having prospective employers fighting over you." 
Following the research presentation at the MiLB headquarters, the group had the opportunity to experience a behind-the-scenes tour of the Tampa Bay Lightning National Hockey League team. The tour and visit with Eric Blankenship, vice president of marketing, was followed by a night game against the Vegas Golden Knights. A 2016 ESPN article listed the Lightning as the number one professional franchise, rated by the fans out of love they have for their team, because of community engagement and marketing strategies that the organization has implemented year after year. Blankenship spoke on the Samford campus last year. 
Upon the group's return to Samford, Jenkins said, "This was a very rewarding project and trip for me. We weren't doing this just for a grade but for the experience. The stature of the executives we were able to interact with was so important to us." 
Mazzei, assistant professor of strategic management, added, "What's so great about Brock School of Business is the opportunities that are brought to the table for our students. Interacting with real world companies allows them to develop great portfolios to have ready when they are interviewing for potential jobs."