Published on February 21, 2018 by Sean Flynt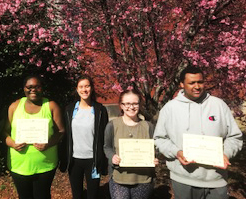 Samford University's debate team won the AFA District 6 Tournament–the SEC regional championship–at State University of West Georgia Feb. 17. The victory also qualified the team for the 2018 National Debate Tournament in Wichita, Kansas, March 20-27.
Sophomore Samford debaters Robbie Nikont of Lakewood, Colorado, and Moriah Windus of Ozark, Alabama defeated teams from Emory University and Wake Forest University on the path to the overall win.

Sophomore Jamie Davenport of Grovetown, Georgia, and freshman Kevin Aubrey of Lafayette, Louisiana, won the tournament's junior varsity division, beating the University of Central Florida, the University of Georgia, and Emory University before defeating Central Florida in a rematch in the finals. 

Freshman Kiarra Broadnax of Smith's Station, Alabama, and freshman Julie Ramsey of Kunming, China, competed in the novice division, defeating the University of Miami twice. Broadnax also earned the novice of the year award for the SEC region.