Published on February 14, 2018 by Maryellen Newton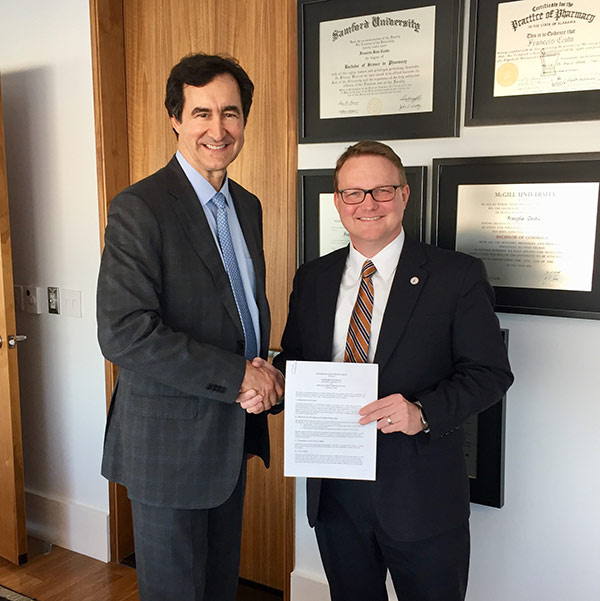 Samford University's McWhorter School of Pharmacy has announced a new affiliation with the Jean Coutu Group, Inc. a Canadian community pharmacy chain with more than 400 franchised stores in Quebec, New Brunswick and Ontario. This affiliation creates the opportunity for students to complete a five-week advanced pharmacy practice experience at a Jean Coutu Pharmacy in Montreal, Canada. 
With this affiliation, McWhorter School of Pharmacy increases its international reach to include 13 affiliations in 10 countries on five continents. 
"We're excited to launch this new international initiative for our students," said Michael Crouch, Fred E. McWhorter Dean and Professor of McWhorter School of Pharmacy. "Global engagement is a distinctive of our program, with more than 75 students traveling abroad annually as part of elective courses, mission trips, and advanced pharmacy practice experiences. This affiliation creates a great opportunity for an advanced practice experience in Canada, and it's particularly special since it is with our alumnus Francois Coutu." 
Francois Coutu, a 1981 alumnus of McWhorter School of Pharmacy, is president and CEO of Jean Coutu Group, Inc. It was through his continued support of the school that this affiliation became a reality, Crouch said. 
The school also holds international affiliations in China, Egypt, Japan, Macau, Paraguay, South Korea, Spain, Thailand and United Kingdom. 
Maryellen Newton is a journalism and mass communication major and a news and feature writer in the Division of Marketing and Communication.