Published on March 2, 2018 by Maryellen Newton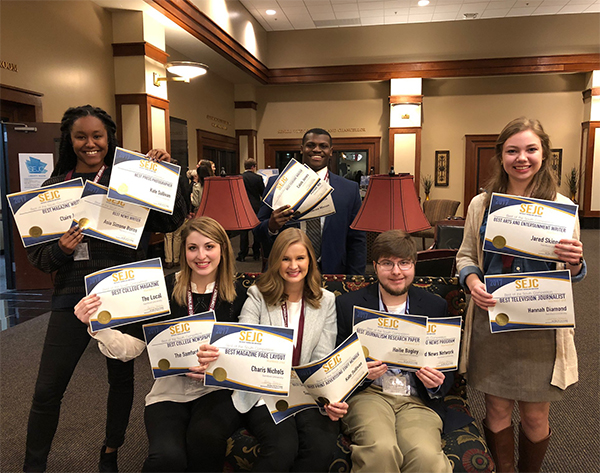 Students in Samford University's
Department of Journalism and Mass Communication
brought home 15 awards from the 2018 Southeastern Journalism Conference (SEJC) in February. The awards included:
First Place
• Asia Burns, Best News Writer
• Claire Jaggers, Best Magazine Writer
• Kate Sullivan, Best Print Advertising
Second Place
• The Local, Best College Magazine
• Sam Chandler, Best Sports Writer
• Kate Sullivan, Best Press Photographer
• Charis Nichols, Best Magazine Layout
Third Place
• Hannah Diamond, Best TV Journalist
• Hallie Bagley, Best Research Paper
Fourth Place
• Caleb Jones, Best Feature
• Samford News Network, Best College Video News Program
Fifth Place
• Katherine Mixson, Best News/Editorial Artist.
Sixth Place
• Jared Skinner, junior, Jacksonville, Fla., placed sixth in Best Arts and Entertainment.
Tenth Place
• Ashton Nix, Best Newspaper Designer
• The Samford Crimson, Best Newspaper
In both 2016 and 2017, Samford students brought home 11 awards,
"We're extremely proud of the outstanding work that our student journalists do at Samford," said journalism professor Clay Carey. "The honors are reflective of the dedication and commitment that our students demonstrated to their work, and to our campus community."
Maryellen Newton is a journalism and mass communication major and a news and feature writer in the Division of Marketing and Communication.