Published on June 21, 2018 by Maryellen Newton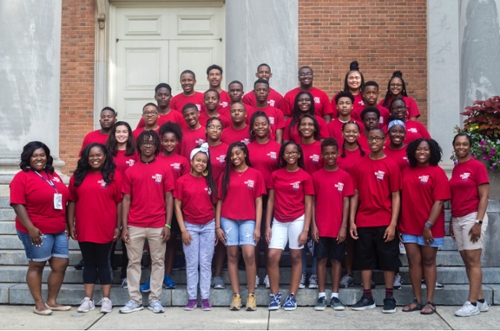 From June 17-20, Samford University hosted the Minority Youth Science Academy, offering college preparation and mentoring for Alabama high school students interested in careers in science, technology, engineering and mathematics (STEM) programs. 
Throughout the week, these students were involved in classroom and outdoor experiments, chemistry and biology labs and a trip to Birmingham's McWane Science Center, followed by a wrap-up luncheon. 
At the luncheon, two students shared their favorite experiences from the week. Leilani Joseph, a student at Birmingham's Ramsay High School, walked through the week, laughing as she talked about seeing a cadaver, experimenting with chemicals in a lab and looking at bugs up close with a microscope, learning about things she had never seen before. She thought the segment on neuroplasticity was one of the most interesting activities of the week. "I never thought I would be interested in neuroscience, but they made it so fun," Joseph said. 
Likewise, Zachary Bone, at student at Buckhorn High School near Huntsville loved the camp. "It's been a blast, and I've loved every second of it," he said. His three favorite activities were learning about neuroplasticity, learning about mice and visiting Samford's Christenberry Planetarium. 
During the planetarium presentation, students saw the planets in the solar system, hundreds of thousands of stars, all which have solar systems and the galaxies with their own stars and solar systems. "The being that created us, created the universe, and he cares about us," Bone said, adding that he was blown away by the whole experience. 
The counselors spoke, adding kind, encouraging words about each of their campers, handing out trophies to each of them. Samford junior Antwain Johnson was enthused by the number of campers he met who wanted to be doctors. "There is a shortness of minorities in STEM programs," Johnson said, speaking to the students. "I want you all to know that the sky's the limit and you all are nothing less than amazing." 
Samford chemistry professor and Assistant Provost for Diversity & Intercultural Initiatives, Denise Gregory, helped lead the program, with support from University Advancement and Howard College of Arts and Sciences. "I think the students were able to determine some things that they like and don't like about STEM fields," she said. "I hope they were able to see that they can do and be anything they want to be."