Published on July 10, 2018 by Sean Flynt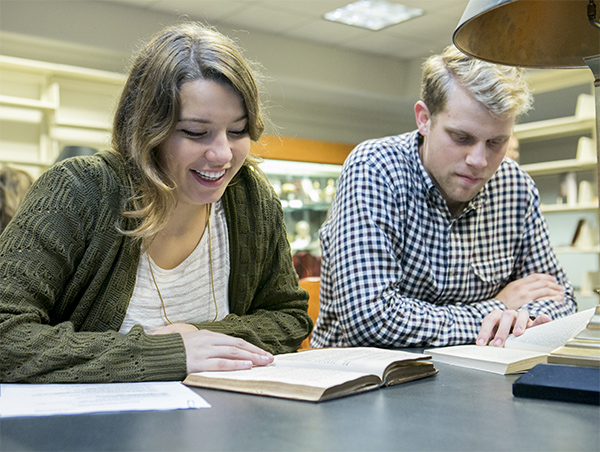 Samford University's Preministerial Scholars program is celebrating 10 years of helping exceptional students answer their calling. The pre-professional scholarship program in Howard College of Arts and Sciences combines the Religion Department's rigorous curriculum with the practical experience of church-related Christian ministry.  
Preministerial Scholars Director James R. Barnette and Coordinator Anna Harris recently gathered alumni statistics that Barnette said confirm "how God has blessed this program and how those students blessed by the program are making a difference for the Kingdom of God." The program's 100 alumni–including Barnette's  son-in-law Ethan Asters– are rising steadily through graduate education into ministry careers. An impressive 94 percent of program alumni are currently in ministry-related graduate programs, Christian ministry positions, or both. They are worship pastors, youth ministers, overseas missionaries, college campus ministers, hospital chaplains and ministry leaders for nonprofit organizations.
In addition to meeting the requirements of the religion major, Preministerial Scholars participate in four ten-week ministry internships, reflect on ministry issues in semester-long discussion groups, and build relationships with other students who sense a distinctive calling from God into church-related service.
The program's emphasis on practical experience through internships has been especially rewarding for students and church partners. Barnette said Preministerial Scholars have represented Samford in 122 ministry internships throughout the United States and in Thailand, Nicaragua, Great Britain and areas of the Middle East. These are in addition to internships associated with the Samford Sunday collaboration with Alabama Baptist associations, which opens pulpits to students virtually every Sunday during the academic year. Since the inception of the Preministerial Scholars program, a total of 61 students have participated in Samford Sunday as their internship, preaching for at least seven Sundays in a given semester under Barnette's mentoring and assessment. Barnette said students and off-campus mentors alike rate the experience as highly positive.
In addition to overseeing the internships, Barnette nurtures new scholars through Preministerial Cadres–weekly meetings of freshmen dedicated in the fall to the personal, professional and spiritual development of the Christian minister, and in the spring to student-led exploration of an influential book such as, most recently, C.S. Lewis's The Screwtape Letters.
With the thriving Preministerial Scholars program, noted Biblical scholar Roy Ciampa joining the Religion Department as chair this summer, a new Biblical Studies minor in the department and the opportunity for collaboration with the new School of the Arts Christian Ministry major, Samford is substantially increasing opportunities for students to pursue careers in Christian service. "As Samford continues to meet the challenges of Christian ministry in our broken world," Barnette said, "Preministerial Scholars looks forward to helping the university meet and transform those challenges."