Published on August 10, 2018 by Sean Flynt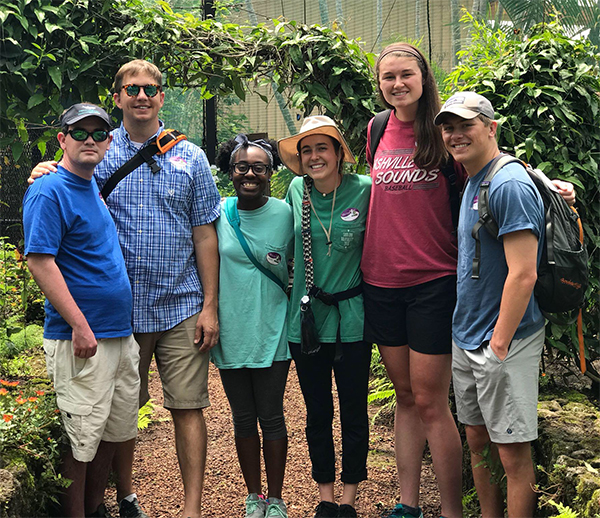 The family of Samford University alumnus Keith Herron '86 has created a new scholarship to help make international study possible for Samford students who might not otherwise be able to participate.
Herron, Senior Executive Vice President and Head of Corporate Responsibility and Community Engagement at Regions Financial Corporation, has served as chair of Samford's Board of Overseers, is a member of the Brock School of Business Advisory board and presented the commencement address for that school in May. He, wife Kelly, daughter Caroline and sons Charles and Sims also have provided financial support throughout the university. Their latest gift–The Herron Family Scholarship for International Study–is a way to share an experience that has meant much to them.
"I never had the opportunity, when I was at Samford, to take advantage of some of our international study programs," Herron said. "I always felt like that was something I would have enjoyed and benefited from."
Now, Herron and his family have traveled internationally and discovered how it can inform new perspectives. "It really has opened my eyes to the importance of our students at Samford being exposed to different cultures and different traditions," he said. "It's a way to build confidence in who you are, and a great way to increase awareness of the importance of diversity."
Herron noted that such awareness can help students in any career they choose, and senior Samford biology major Shannon Gilstrap, the first recipient of the new scholarship, agrees. This summer the scholarship took her to Costa Rica and Panama, where she discovered options for graduate school and careers as she explored important nature preserves and regional culture. "There are grad programs and research facilities in other countries that are looking for people like me–college students who want to do research, who want to change the world through biology and everything that comes along with it," Gilstrap said.
Gilstrap, who had never been out of the country and seldom left Alabama, also encountered economically challenged communities that changed her ideas of travel and tourism. "To talk to the people from these areas and to interact with them, play soccer with the kids, and explore their buildings and cathedrals was the best part of the trip," she said. "It opened my eyes to so many things about myself."
Lauren Doss, director of Samford's Global Engagement Office, said the university believes every student should have that kind of experience. "We're constantly looking for ways to eliminate the obstacles that keep our students from studying abroad," Doss said, "whether it's creating more opportunities connected with a student's degree program or providing more financial resources for support."
That, Keith Herron said, is the aim of his family's gift. "It's just another way to help others. It's one more place within the university where we can touch the life of somebody else."