Published on March 23, 2023  
The 2022-23 athletic season at Samford University has been historic for many of the school's teams. In the fall of 2022, the football team, soccer team and volleyball team were all named Southern Conference champions, making Samford the only NCAA Division I school in the country to win conference championships in all three sports. This spring, the men's basketball team was named the regular season champion for the Southern Conference. A major factor for the teams' success is due to Project SAMson, which brings the latest technology, data analysis and sports medicine practices together in one place to enhance the training regimen of all Samford student-athletes across 17 NCAA Division I programs.
Launched in 2021, Project SAMson is a combined initiative by Samford, its athletic programs, Andrews Sports Medicine, American Sports Medicine Institute, Brock School of Business, the College of Health Sciences and the Center for Sports Analytics to create a new approach to sports performance. The goal of the initiative is to enhance athletic performance through improved strength and conditioning training, reduced injury risk, advanced injury prediction and treatment, and data-driven return to play protocols. Athletes wear wearable technology that tracks a wide array of performance metrics. The data is then analyzed by Samford students in Brock School of Business and the Center for Sports Analytics. Students from various areas within the College of Health Sciences then work with coaches and athletic trainers to develop unique training regiments and nutrition plans for each athlete.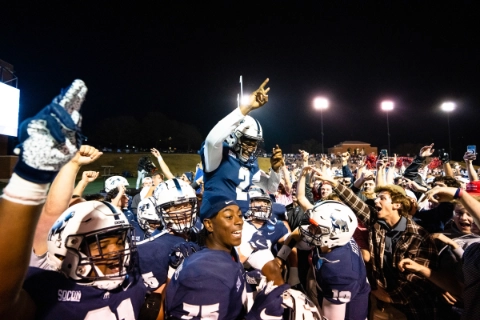 Coaches credit Project SAMson for providing new insights for both injury prevention and performance and helping student-athletes compete at higher levels of play.  
"Project SAMson has been a complete game changer for our football team. The equipment and technology have allowed our players to train more effectively and efficiently. Our team became faster and stronger. It allowed us to keep our team in excellent shape while not fatiguing them," said Head Football Coach Chris Hatcher. "The difference in us being near champions in previous years and conference champions this year is directly related to the benefits our team received through Project SAMson."
The Bulldogs won 11 games during the historic 2022 football season, which was the second most in a season in program history. The team earned its first Southern Conference championship after winning all eight of its conference games. The only losses were to the University of Georgia in September and to North Dakota State in the quarterfinals of the NCAA Division I Football Championship Subdivision playoffs.
"We have been able to look at the data and implement it around what we needed. We eliminated the guessing game and started being specific with our training methods every single day in order to match what the guys needed on the field," said Zach Mathers, assistant athletic director for sports performance and Project SAMson.
The athletes are also invested in the program, especially since they can see how their performance is improving by wearing the wearable technology and understanding the data and insights generated.
"I was able to see what the program was like before Project Samson and what it is like now. You don't know how good it is until you look back and see what you came from.," said Nathan East, a linebacker on the football team. "In order for us to go to the next level, Project Samson has been a vital aspect. Also, Coach Mathers coming in—everything he does is so data driven and research based—so when you pair his expertise with the equipment and data from Project SAMson, it is a recipe for success."
"The players like the bells and whistles of the technology, but they also understand that we are using data and science to create programs for what they specifically need," Mathers said. "I think it has helped the training process, so they understand how we are trying to implement these things to make them better."
Through its partnership with faculty and academic programs in business and health sciences, Project SAMson also provides real, hands-on experience for students across Samford's campus. Students from Brock School of Business and the Center for Sports Analytics work with faculty to analyze the data and present it to the coaches and athletes. For Austin Streitmatter, a senior majoring in marketing and management with concentrations in sports marketing and data analytics, interning with Project SAMson has been one of the most meaningful and significant experiences of his time at Samford.
"I attribute everything I've been able to accomplish at this point to Project Samson. Being able to be a student who can analyze an incredible amount of data has given me the opportunity to apply the skills I've learned in the classroom outside of the classroom and that is an amazing resume booster," Streitmatter said.
According to Streitmatter, they collect hundreds of thousands of data points from each team workout. The data comes from the elite form equipment in the weight room, which tracks the amount of power and weight of each exercise, and the wearable technology, which tracks heartrates, exertions, sprints and more. Streitmatter compiles the data and creates an individual profile for each athlete that is then shared with their coach.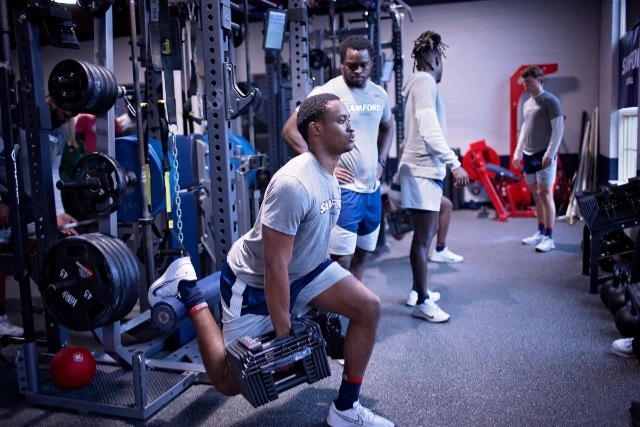 "We are looking at how do we get through these data sources to talk to each other so we can have a holistic picture of the athlete. Our goal is for it to be reproduceable, simple and something we can give a coach and they will see and remember within 60 seconds so they can use when coaching their team and each athlete," Streitmatter said.
Streitmatter has worked closely with Samford's soccer and football teams for the past two years. He says while he is not an athlete, he feels very much like he is part of the team. Celebrating the football team's win against Southeast Louisiana was a full circle moment for him.
"As a kid I always dreamed about being a professional athlete, but I very quickly realized I did not have the build or the genes to do so. However, I still wanted to be involved in sports. And, now, here I am on the field hugging our strength coach because some of the work I did helped the team to win," Streitmatter said. "I may not be competing on the field, but the work I have done off the field has enabled us to get just a little bit better every day to the point where we are winning games and titles."
Students from the College of Health Sciences also intern with the teams. By using the data collected during workouts, student interns are able to help create individualized nutrition plans and training regiments for the athletes.
"Project SAMson has connected so many parts of our campus. Through it, we are taking an athletic venue and making it part of the educational experience, too," said Martin Newton, director of athletics at Samford.
Hannah Futrell, a junior majoring in nutrition and dietetics in the School of Public Health, has worked closely with the football team over the past year. She creates pre-practice and pre-workout meal plans, makes protein shakes for the athletes after workouts, packs snack bags for when they travel for away games and travels with the team to assist with nutrition-related needs while on the road. Because of her experience with Project SAMson, she hopes to pursue a career as a sports dietitian for a college or professional football team.
"The experience I have had with Project SAMson is probably going to help me excel in my career more than anything else I have done. The connections that I've been able to make and the knowledge I've gained about how sports teams work has been huge," Futrell said. "I've been able to take on a lot of responsibility that will prepare me for my career in my future."  
Last summer, Futrell interned with Vanderbilt Athletics where she worked with the men's basketball team. This summer she will intern with the University of Tennessee's football team. She believes securing both internships were direct results of her work on campus through Project SAMson.
The second phase of Project SAMson began earlier this year, involving new wearable technologies, expanded training systems and a database to aggregate and warehouse the data generated.
Learn more about Project SAMson.
Samford is a leading Christian university offering undergraduate programs grounded in the liberal arts with an array of nationally recognized graduate and professional schools. Founded in 1841, Samford is the 87th-oldest institution of higher learning in the United States. Samford enrolls 5,791 students from 49 states, Puerto Rico and 16 countries in its 10 academic schools: arts, arts and sciences, business, divinity, education, health professions, law, nursing, pharmacy and public health. Samford fields 17 athletic teams that compete in the tradition-rich Southern Conference and ranks 6th nationally for its Graduation Success Rate among all NCAA Division I schools.