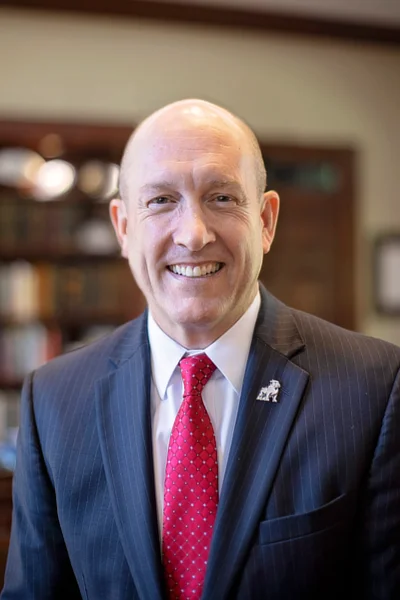 President, Professor of Economics
President's Office
201 Samford Hall
Dr. Beck A. Taylor began his tenure as the 19th president of Samford University, in Birmingham, Ala., in July 2021. He returned to Samford after serving as the 18th president of Whitworth University in Spokane, Wash., from 2010-2021. Prior to that appointment, Dr. Taylor served as dean and professor of economics for Samford's Brock School of Business (2005-2010), and associate dean for research and faculty development and the W.H. Smith Professor of Economics for Baylor University's Hankamer School of Business, in Waco, Tex. (1997-2005).
During Dr. Taylor's first two years as Samford's president, he led the development of the university's strategic plan (Fidelitas: Faith and Future), which sets a bold and aspirational vision to reinforce and strengthen Samford as a leading national, comprehensive, Christ-centered institution of higher learning. A $100 million gift from alumnus Marvin Mann in 2022, the construction of a new $65 million campus recreation and wellness complex, and record enrollments are fueling Samford's growth and impact.
Dr. Taylor's 11-year tenure at Whitworth – the third-longest presidential term of service in Whitworth's history – was highlighted by a renewed emphasis on community engagement; efforts to enhance academic programs and quality; the building of new campus infrastructure to facilitate the university's academic, athletic, and student life programs; the creation of newly endowed faculty positions and centers; leading Whitworth's largest-ever comprehensive fundraising campaign; and an emphasis on overall institutional effectiveness.
After earning his undergraduate degree from Baylor with majors in economics and finance, Dr. Taylor was employed as an analyst for Andersen Consulting (now Accenture) in Houston, Texas. He went on to earn his MS and PhD in economics from Purdue University. After returning to the Baylor faculty, Dr. Taylor was named the first holder of the W.H. Smith Professorship in Economics. In 2002, he was appointed as a visiting scholar by Harvard University where he spent one year in residence at the Harvard Graduate School of Education.
As dean of Samford's Brock School of Business, Dr. Taylor led the rapid transformation of the business school, including its renaming to honor Harry B. Brock, Jr., founder of Compass Bank. Dr. Taylor led the Brock School of Business to establish eight new academic programs, as well as the school's new honors program. The school's entrepreneurship program was recognized in 2010 as the nation's top emerging program by the U.S. Association for Small Business & Entrepreneurship. In an effort to build bridges between students and the regional business community, Dr. Taylor established the Samford Business Network, as well as a 45-member advisory board of the region's top business leaders.
As a scholar, Dr. Taylor has published dozens of studies in economics journals such as Review of Economics and Statistics, Journal of Labor Economics, Journal of Human Resources and Journal of Money, Credit, and Banking. Illustrating his diverse research interests and his connections to the social sciences, Dr. Taylor has also published groundbreaking research in public health and child developmental psychology. His research has been cited in testimony given before the U.S. Congress, the Federal Trade Commission, and the California State Assembly, and also has been referenced in publications such as The New York Times, The Boston Globe, and The Christian Science Monitor. Dr. Taylor is a member of numerous professional and academic organizations, and he has served as a strategic business consultant for dozens of organizations.
Dr. Taylor and his wife of 31 years, Julie, have three children: Zachary, 27, a Los Angeles-based music recording artist, Lauren, 25, a medical student at the University of Washington, and Chloe, 16, a junior in high school.