Published on June 22, 2016 by Philip Poole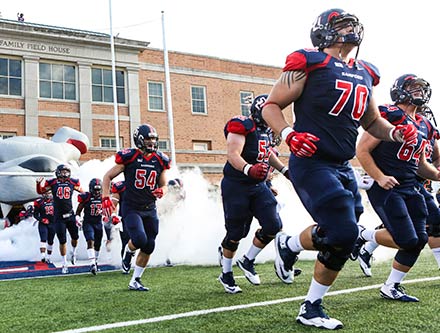 by Erin Bognar 
A professor and students in Samford University's Howard College of Arts and Sciences recently concluded a study about the motivational impact of modern uniforms in college football called the College Football Uniform Study (CFUS).  
Chuck Stokes, assistant professor of sociology, has led numerous research studies, but his latest study combines his profession of social scientific research skills and his passion for college football.    
Throughout the past year, he worked with three Samford undergraduates — Courtney Allen, Dylan Jedlovec and Caleb Punt — to collect six years of data on all Southeastern Conference (SEC) football games and home games of non-SEC Top 25 teams. Allen is a senior Brock Scholar from Madison, Alabama. Jedlovec is a senior marketing major from Huntsville, Alabama, and Punt is a senior English major from Tavares, Florida. 
Stokes said the goal of the study was to investigate whether external factors such as modern uniforms affect outcomes of games and to understand the trends in the outcomes. They also conducted a Twitter-based study to measure the top 100 recruits' interest in the alternate uniforms study. 
Using the data, Stokes and the students discovered that when SEC teams use alternate uniforms, they have about a 6-point disadvantage compared with when they wear traditional uniforms. Non-SEC Top 25 teams have about a field goal advantage in the alternates. 
"These findings show the impact that 'externals' can have on sports performance. This isn't a new idea. Many fans and athletes have stories of how off-the-field/court aspects affect games, especially crowd participation." Said Stokes. 
Stokes has published two articles about the research and results on The Business Side of Sports, a blog of Darin White, Samford professor of sports marketing. Two additional articles on the research will be released soon.   
"After four blog posts highlighting the main findings of the study, my hope is to crowdsource the study with fan contributions," said Stokes. Fans will be able to submit their own stories and evidence of how uniforms impact the game and even help build the database by adding additional teams and years. 
To learn more about the CFUS, go to collegefootballuniformstudy.weebly.com and read the blog. 
Erin Bognar is a journalism and mass communication major and a news and feature writer in the Division of Marketing and Communication.